COLLEGE FOOTBALL: OWEGO'S BOEHME HEADING TO HARTWICK
(2022-06-08)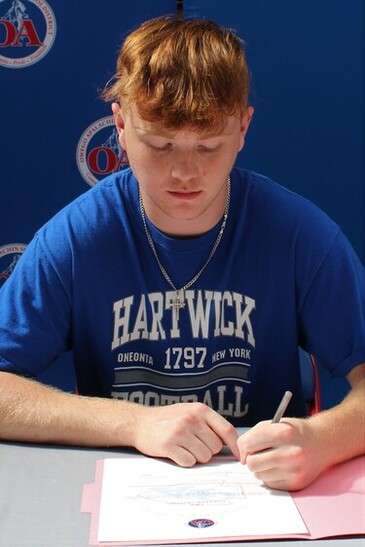 By TIM TAYLOR
Tioga County Sports Report
OWEGO — Carter Boehme has decided to continue his football career at Hartwick College in Oneonta.
On Wednesday he signed a congratulatory certificate from the high school for selecting the Hawks.
"I chose to attend Hartwick College because they have everything I was looking for in a school," he said.
Boehme has selected Business Management as his major.
He feels his versatility will be a plus for the football program.
"I feel like I can bring a lot to the table for the team because I am a very versatile player, so you can put me anywhere and I can most likely get the job done in that position," Boehme said.
He also knows there's room to grow.
"I feel like I need to just keep working on what I've got and try to perfect my craft," he said.
Hartwick was 2-7 last year (1-5 in the Empire 8), but was just 20 points away from a 6-3 overall record and nine points shy of finishing 3-3 in conference play.
——————
PHOTOS BY TIM TAYLOR.