COLLEGE FIELD HOCKEY: OWEGO'S BAUMBACH SIGNS WITH ONEONTA
(2022-06-08)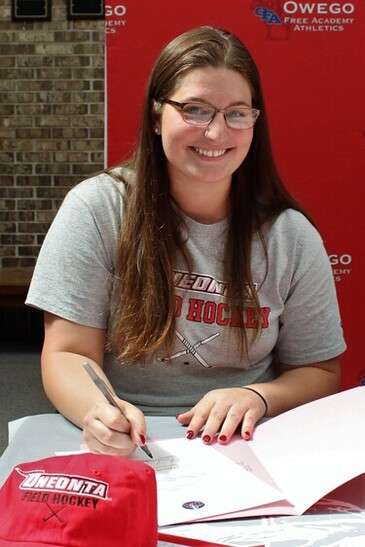 By TIM TAYLOR
Tioga County Sports Report
OWEGO — Jillian Baumbach has an interest in a variety of college educational opportunities and her athletic focus will eventually be geared toward a couple of sports.
The Owego senior signed a congratulatory certificate from the high school Wednesday for choosing to attend SUNY Oneonta.
"I chose SUNY Oneonta because it felt like home, and its amazing opportunity with the engineering program and education program," she said. "I'm going into engineering and education with a potential to later get a master's in Agriculture Education from another university.
"I'm planning on playing on the field hockey team and potentially join the equestrian team at a later date."
She knows there are areas where she can improve while wielding the stick.
"I feel I can offer Oneonta field hockey my unique personality," Baumbach said. "I need to improve a lot to reach my full college potential, but my biggest thing will always be keeping my mindset positive even when it gets hard."
——————
PHOTOS BY TIM TAYLOR.