COLLEGE LACROSSE: OWEGO'S MASLIN SEEKS 10-MAN RIDE AT BROCKPORT
(2022-06-08)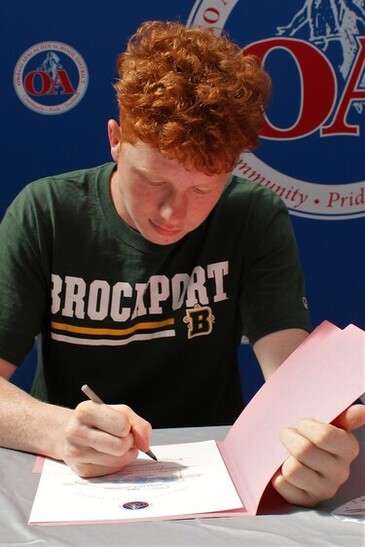 By TIM TAYLOR
Tioga County Sports Report
OWEGO — Nick Maslin put together a solid season as a two-way midfielder for the Owego boys lacrosse team this season and looks to continue that at the next level.
The senior, who scored 47 goals and 23 assists in his final season, signed a congratulatory certificate from the high school Wednesday for picking SUNY Brockport.
"I chose Brockport for its excellent education, and community and family feel that its team has," Maslin said.
He plans to study Nursing.
Maslin is hoping his skills will benefit the Golden Eagles.
"I hope to be the best player I can and help the team out in any way they need," he said.
He also realizes there are areas to improve in order to be competitive at the college level.
"I need to be quicker, faster, stronger, smarter and better than I was the day before, and work harder than the next guy," Maslin said.
——————
PHOTOS BY TIM TAYLOR.