COLLEGE CROSS COUNTRY: OWEGO'S BOWERS TO RUN AT NEW PALTZ
(2022-06-08)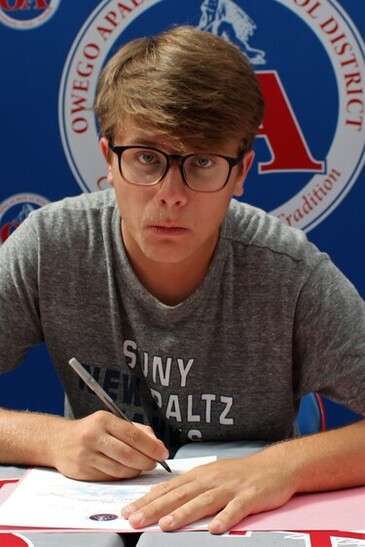 By TIM TAYLOR
Tioga County Sports Report
OWEGO — Gavin Bowers has been part of a successful cross country program at Owego throughout most of his high school career. Now he will make a run at it in college.
Bowers signed a congratulatory certificate from the high school Wednesday after deciding to run cross country at SUNY New Paltz.
"I chose SUNY New Paltz because of how beautiful the campus is," said Bowers, who is interested in a major in Communications.
As far as his strength heading to the collegiate level, "I feel that I have my can-do attitude towards practices," he said.
"An area that I need to improve is my running form," he added.
Bowers was 11th in the Section IV Class C meet last fall as the Indians finished second, just three points behind Lansing. He was also 14th as a sophomore as the team won the sectional title in Cass B.
——————
PHOTOS BY TIM TAYLOR.