COLLEGE SOCCER: OWEGO'S JORGENSEN HEADING TO ST. JOHN FISHER
(2022-06-08)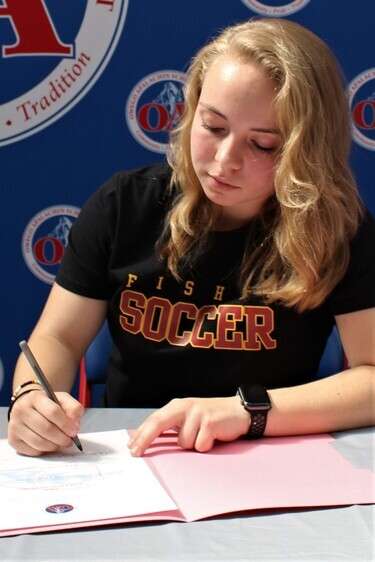 By TIM TAYLOR
Tioga County Sports Report
OWEGO — Carmen Jorgensen had an impressive soccer career at Owego and will look to carry that forward to St. John Fisher.
The senior standout signed a congratulatory certificate from the high school Wednesday for selecting the Cardinals.
"The reason why I chose SJF is because they have an accredited sports management program, which I plan to major in, and a beautiful campus."
SJF went 10-6-1 last fall, and finished third in the Empire 8 Conference regular season and was the Empire 8 tournament runner-up.
Jorgensen hopes she can contribute to the Cardinals' competitive program. She was a key player for the Indians during her career, helping them to a Section IV Class B title last fall.
"I look forward to joining SJF women's soccer where I can share my work ethic and positive attitude with my team," she said.
"Over the summer I will continue to work on my physical conditioning and tactical skills to help me at the college level.
"I am very excited about playing soccer as a SJF Cardinal this fall!"
——————
PHOTOS BY TIM TAYLOR.