COLLEGE SWIMMING: OWEGO'S GAULT HOPES TO MAKE A SPLASH AT RPI
(2022-06-08)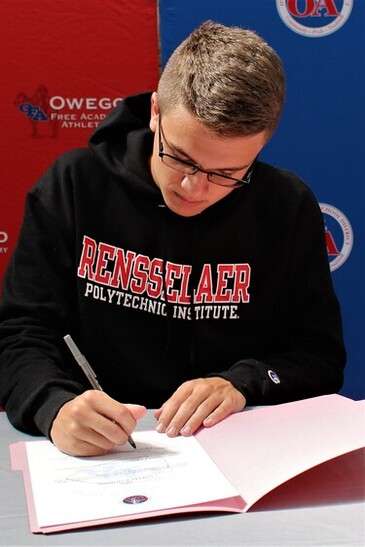 By TIM TAYLOR
Tioga County Sports Report
OWEGO — Adam Gault is hoping to engineer a successful swimming career when he heads to Rensselaer Polytechnic Institute to continue his education.
The Owego valedictorian signed a congratulatory certificate from the high school Wednesday for choosing RPI.
"I chose RPI for their incredible academic programs as well as the strength of their athletic teams," he said. "I will be majoring in Chemical Engineering."
"Adam will be the epitome of a scholar athlete," swimming and diving coach Kyle Lounsberry said. "He will bring hard work, sportsmanship, and dedication to his new team.
"He's always been encouraging to his teammates no matter what their skill level, and will continue to do so at the college level."
Gault feels his work ethic will be a plus for the Engineers.
"I have learned the value of hard work during my time on the varsity swim team here at OFA and I believe this will serve me and my future team well," he said.
At the same time, he knows there are areas in which he needs to improve.
"I will need to improve in many ways, which is why I am excited to swim at RPI as their team allows much room for growth," he said.
——————
PHOTOS BY TIM TAYLOR.