COLLEGE BASKETBALL: OWEGO'S HANKEY TO HOOP IT UP SOUTH OF THE BORDER
(2022-06-08)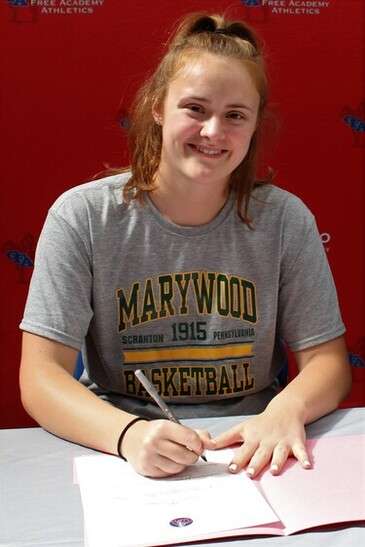 By TIM TAYLOR
Tioga County Sports Report
OWEGO — Georganna Hankey is taking her game out of state. The Owego senior signed a congratulatory certificate from the high school Wednesday for choosing to play basketball at Marywood University in Scranton, Pennsylvania.
"I chose Marywood university because of its distance from home, it's beautiful campus, it's competitive basketball team and the feeling of home it gave me," she said.
"I will be majoring in exercise science but I am still unsure of what career I want to pursue," she said.
Hankey's competitive spirit and leadership ability should be a plus for the Pacers.
"I hope to contribute to the team with my aggressive defense and competitiveness, as well as support for my teammates."
"It's been incredible watching Georgie grow into the young woman and player she is today," coach Luke McEvoy said. "I vividly remember her first few days of tryouts as a 7th-grader. As coaches, we got a sense of someone ready to be challenged and willing to work hard to get better. She always does her best and never wants to let her teammates down. Her team-first mentality and willingness to do whatever is needed for her team will serve her well in life.
"Although pretty quiet and reserved, Georganna is a fierce competitor who brings a lot of energy to the team on and off the court. These attributes will lead Georgie to be very successful in whatever she chooses to do.
"Georgie epitomizes what the OFA girl's basketball program is all about. She will provide the same things for the Marywood basketball program, and it wouldn't shock me to see her on the sidelines as a coach someday."
Hankey hopes to improve at the offensive end of the court and build on her confidence.
"I want to work on being a better offensive threat and making open looks, and need to work on my confidence in the game as a whole."
——————
PHOTOS BY TIM TAYLOR.