SECTION IV SOFTBALL: OWEGO UPSETS TOP-SEEDED SUS VALLEY
(2022-05-26)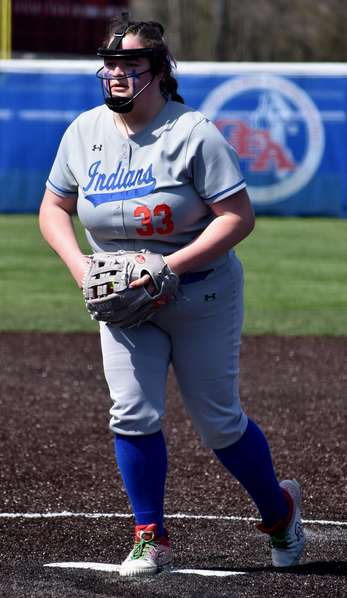 Tioga County Sports Report
CONKLIN — The drought is over. Owego, winless in five previous Section IV playoff games against Susquehanna Valley, upset the top-seeded and defending champion Sabers, 2-1, in the Class B semifinals here Thursday.
Lauren Gilbert stymied Sus Valley with her bat, as well as her arm.
"The two runs were provided by the power of Lauren Gilbert's two-run 'towering shot' in the 6th," Owego coach Brent Doane said. "She coupled that with her best pitching performance of the year and which was backed up by steady if not outstanding defense."
Jordan Greeno led off the inning with a base on balls before Gilbert launched a 2-2 pitch to take the lead.
Gilbert struck out seven, scattered five hits and a walk, and surrendered one unearned run.
The Indians avoided trouble in the bottom of the inning when Hannah Aton, who led off with a single, was called out for leaving early on a steal attempt. Gilbert then struck out Paige Weaver on four pitches and Ava Spottek popped out to first baseman Sarah Terry in foul territory.
Gilbert retired the side in the seventh on a strikeout, fly out and line out. Her strikeout victim was Makenna DeMoney, whom Doane said is one of the top hitters in the area.
Sus Valley grabbed a 1-0 edge in the fourth when DeMoney singled, and her courtesy runner stole second, advanced to third on a passed ball and scored on an Isabella Gaskins base hit.
The Indians managed just three hits, the other two coming from Ava Brown.
Owego (13-6) faces second-seeded Chenango Valley (13-5), a 3-2 winner over Windsor, in the title game Saturday at 1 p.m. at the BAGSAI softball complex in Binghamton.
It's the Indians' first championship game appearance since a 3-2 loss to Johnson City in 1976. CV has won seven, the last in 2010.
——————
IN PHOTO 1: Owego's Lauren Gilbert. … TCSR STOCK PhOTO.