SECTION IV BOYS LACROSSE: OWEGO FALLS TO ELMIRA IN SEASON FINALE
(2022-05-18)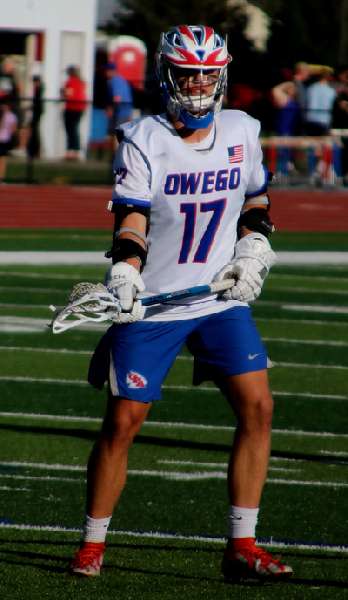 Tioga County Sports Report
OWEGO — Owego's season came to an end Friday with a 10-8 loss to Elmira in Section IV boys lacrosse action here.
Nick Maslin had a big day with his stick, scoring four goals and dishing out three assists. He scored two goals and handed out one assist in the second period. He also contributed two goals in the third period and had a pair of assists in the fourth.
Alex Brown notched single goals in the second and third quarters.
Aidan Both tallied the Indians' initial goal of the game and Wylie Boland accounted for the final tally.
Mason Wills contributed two assists, and Jace Riegel and Parker Sage tacked on one assist each.
Maslin, Wills and Steven Bidwell collected five ground balls apiece, Matt Gatto had four, and Mike Kuchinski added three. Maslin won 11 face-offs.
Owego finished the season with a 5-11 record.
——————
IN PHOTO 1: Owego's Jace Riegel. … PHOTOS COURTESY OF KRISTINE MASLIN.