(UPDATED) SECTION IV GIRLS LACROSSE: OWEGO JUMPS ON M-E EARLY IN 17-5 VICTORY
(2022-05-16)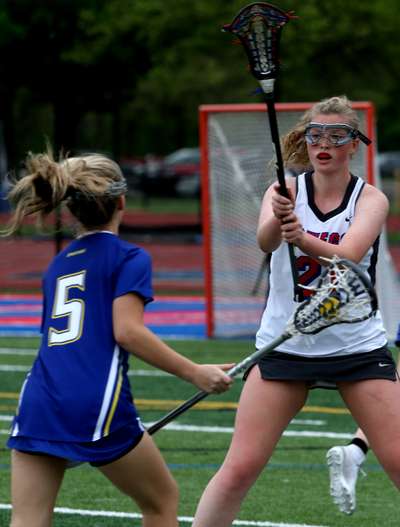 By TIM TAYLOR
Tioga County Sports Report
OWEGO — Owego scored five goals in less than five minutes early in Monday's Section IV girls lacrosse game and cruised to a 17-2 victory in the regular season finale here.
Autumn Hankey notched the first goal of the game at 23:51, then Ashlynn Middendorf scooped up the ball following the draw and raced down the field to make it 2-0 just 11 seconds later.
Madison McEvoy made it 3-0 at 21:06.
Less than two minutes later, Lexi Herceg found the back of the net at 19:15, just 12 seconds before McEvoy's second goal of the evening pushed the Indians' advantage to 5-0.
"We've been working on fast breaks a lot in practice and in our other games, but our ball movement was really what we were focused on today," Owego assistant coach Briana Prince said. "I told them before the game that I wanted them to run plays and pass the ball up the field and they did both of those things, and I think that's why they were successful today."
Prince was filling in for head coach Ashlee Marsh, who was out due to illness.
The Owego scoring machine would slow just a bit, until 13:22 when Middendorf found Herceg cutting across in front of the goal for a 6-0 lead.
The Indians would not tally again until there was 5:35 remaining in the first half. That's when Hankey notched her second goal of the night, giving Owego a 7-0 cushion.
The Spartans finally broke through with a goal by Jaime Rossi with 1:37 left in the half.
M-E would make it two in a row at 23:57 of the second half on a shot by Emma DiRado.
McEvoy would put the Indians back on the scoreboard with a hat trick goal at 19:13, but M-E's Ava Passante responded with a goal at 18:38.
Emma Brown got in on the Owego scoring effort with a goal at 17:27, then Herceg scored her hat trick goal on a pass from Midendorf at 13:02 to make it a 10-3 game.
Vasilia Anastos countered with a goal at 12:51 for the Spartans, but McEvoy put two more away in less than a minute, at 12:11 and 11:28. Middendorf followed those goals up with her second of the evening at 10:42, inflating the Owego advantage to 13-4.
Rossi would score her second goal of the game at 9:47, only to have the home team tally four more times in the final 7:01.
The first came when McEvoy stepped in front of M-E goalie Kiera Rahner's pass and put the ball in the back of the net for her sixth score and 14-5 lead.
Bella Silvestri, moving from defense to midfielder late in the game, scored a well-celebrated goal with 5:25 to go in the contest. Her first varsity goal came following a violation, and she shot past the Spartans' Secora Salmon, between M-E's Megan Bennett and Abigail Smith, and by Rahner.
Hankey closed out the scoring with goals at 3:31 and 1:19, giving her four for the game.
"I thought they played as a team and they played really well," Prince said of the Indians' performance.
"We got to put girls in positions that they haven't played before and they still performed. One of our defenders, Bella Sylvestri, got to score today, so that was pretty cool."
McEvoy, Herceg and Hankey added one assist apiece to the Indians' effort.
McEvoy had nine ground balls, won nine draws, collected four interceptions and caused eight turnovers. Hankey had nine draw controls and seven ground balls, Silvestri added four ground balls, and Brown and Middendorf tacked on three apiece.
Shannon Maslin made six saves in goal.
Owego (8-8) now awaits the seedings for the sectional tournament.
——————
IN PHOTO 1: Owego's Lily Morton. ... PHOTOS BY TIM TAYLOR.