SECTION IV TENNIS: NEWARK VALLEY COMPETES IN CLASS C-D EVENT
(2022-05-16)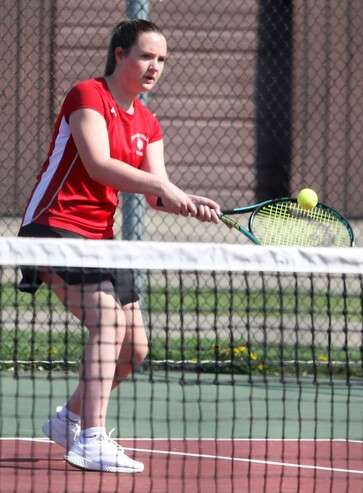 Tioga County Sports Report
NEWARK VALLEY — Newark Valley picked up a pair of victories in singles competition at the Section IV Class C-D West tennis tournament here Thursday.
Alannah Deer and Clara McCloskey, the Cardinals' first singles and second singles players, respectively, posted first-round victories before dropping out in the second round.
Deer swept Elmira Notre Dame's Divye Agrawal, 6-1, 6-2.
McCloskey picked up a sweep as well with a 6-2, 6-4 sweep of Edison's Mason Barchet.
In the quarterfinals, Deer fell to fourth-seeded Jason Murphy of Watkins Glen, 6-0, 6-2, and McCloskey lost to No. 2 seed Brian Chang of Lansing, 6-1, 6-2.
In doubles competition, the NV duo of Rachel Parisot and Karli Berghorn were eliminated in the Round of 32 by Truamnsburg's Ryan Petty and Drew Civiletto, 6-1, 6-2, while the Cardinal tandem of Michael Medina and Austin Smith fell to Waverly's Ashlen Croft and Hayden Larson, 6-3, 6-4.
Newark Valley closes out the season at the IAC championships May 24 at SUNY Cortland.
——————
IN PHOTO 1: Newark Valley's Alannah Deer. ... PHOTOS BY TIM TAYLOR.