IAC / STAC SOFTBALL: GILBERT RECORDS 200TH CAREER 'K' AS OWEGO DOWNS S-VE
(2022-05-15)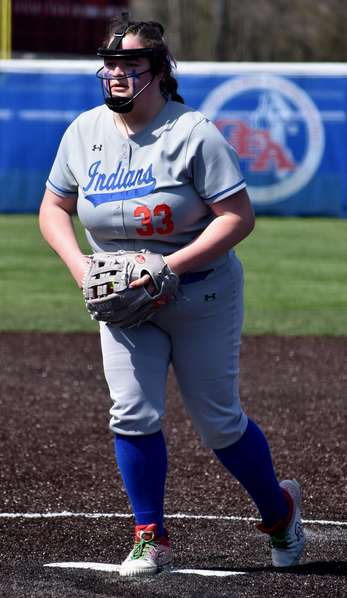 Tioga County Sports Report
SPENCER — Lauren Gilbert recorded her 200th career strikeout, registering 11 Ks on the day as Owego defeated S-VE, 7-3, here Friday.
Gilbert's effort offset an impressive hitting performance by the Panthers' Raegan Sudnikovich, who fell a single shy of hitting for the cycle, and a 15 strikeout performance by S-VE ace Rhiana Lawrence.
The Indians broke a scoreless tie with a run in the top of the third, but S-VE knotted the score in the fourth.
Jordan Greeno's two-run triple in the fifth plated Brooklyn Gaurnier and Taylor Dalton, both of whom had singled, to give Owego the lead for good. Gilbert was intentionally walked, and Greeno and courtesy runner Natalie Donovan scored on Alex Aubel's base hit to make it 5-1. Saylor Ayers, who reached on a fielder's choice bunt, made it 6-1 on Sophia Palladino's single.
Sudnikovich got a run back for S-VE with a solo home run in the Panther half of the fifth.
Dalton walked, moved to third on a passed ball and wild pitch, and scored the game's final run on Greeno's fly out.
It was Greeno who tallied the Indians' initial run when she singled, advanced to second on an error and scored on Gilbert's single.
Sudnikovich doubled and scored on Katelyn Klym's base hit in the fourth.
Greeno went 2-for-4 with two runs and three RBI as Owego pounded out 11 hits. Aubel went 2-for-3 with two RBI, Gilbert was 2-for-3 with one RBI and Sarah Terry went 2-for-4. Dalton contributed a hit and two runs, Donovan and Gaurnier added a hit and a run apiece, Ayers scored a run, and Palladino drove in a run.
S-VE had seven hits with Sudnikovich going 3-for-4 with two runs and two RBI, and Klym going 2-for-4 with an RBI. Adrienna Farmer had a hit and a run, and Faith Brenchley had a hit.
Both teams have qualified for the postseason and await tournament seedings.
——————
IN PHOTO: Owego's Lauren Gilbert. ... PHOTO BY CATHY DOANE.