SECTION IV FLAG FOOTBALL: OWEGO ENJOYING SUCCESS IN NEWEST SPORT
(2022-05-15)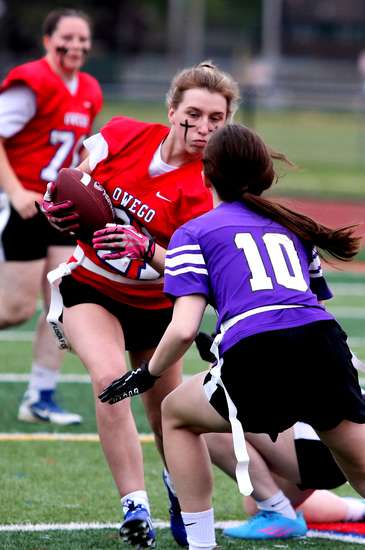 By TIM TAYLOR
Tioga County Sports Report
OWEGO — Owego is enjoying success in girls flag football, part of a pilot program introduced this spring by the New York State Public High School Athletic Association.
The Indians won their season opener last week at Binghamton, 33-19, then made their home debut Saturday with a 32-7 victory over Norwich.
The Owego team has bought into the concept of flag football and has displayed their desire to win and dedication to success from the start.
"These girls are phenomenal, phenomenal athletes," Owego coach Rusty Virkler said. "When I told them earlier in the spring that they had an opportunity to play football, they were ecstatic.
"They come in, they work their butts off every morning and they're getting better every week, so I'm excited to see what the future holds for them."
Owego scored the first 25 points of the contest, all coming in the first half.
In flag, teams play two 24-minute halves and it took the Indians less than five minutes to find the end zone on the 80-yard field.
Sarah Terry connected with Lauren Gilbert on a 60-yard touchdown pass, then tossed the pigskin to Alex Aubel for the PAT to make it 7-0 with 19:18 on the clock.
Norwich would come away with an interception on Owego's next drive, but was unable to take advantage of the turnover.
The Indians' Bella Silvestri made a TD-saving "tackle" near midfield, then picked off an Andie Mucha aerial moments later.
Owego's Taylor Dalton snagged a Mucha pass and returned it 37 yards for a score at 11:14 for a 13-0 lead.
Terry and Gilbert hooked up on another long pass, this one for 44 yards down to the Norwich one. On 4th-and-goal at the two, Terry flipped a pass to Gilbert to push the Indians' advantage to 19-0 with 7:22 remaining in the half.
Owego closed out the first-half scoring on Silvestri's four-yard run on fourth down. The TD was set up by a 25-yard punt return from Sophia Palladino, and runs of 11 and two yards by Carmen Jorgensen and Silvestri, respectively. That gave the Indians a 25-0 cushion with 3:51 in the half.
Palladino returned a punt for a score early in the second half, but the TD was called back due to an illegal block.
The Purple Tornado would finally get on the board with 9:48 left in the game. Mucha, Maya Adoff and Megan Lindridge combined for 65 yards on six carries with Adoff scoring from a yard out. Mucha threw to Julia Llewellyn for the PAT to make it 25-7.
The Indians added one final TD with 41 ticks on the clock. Lexi Herceg hit Oriah Boland with a short pass and Boland weaved her way through the Norwich defense for a 51-yard score. Herceg's keeper on the PAT made it a 32-7 final.
Virkler was pleased with the Indians' performance against the Tornado.
"It's tough, because when they play other sports, it's hard to practice, only practicing two or three times a week max. So, for them to come out here and perform, I was very proud of them."
Owego (2-0) hosts Chenango Valley Saturday at 6 p.m.
ABOUT THE PROGRAM:
In a partnership with the Buffalo Bills, New York Giants and New York Jets, nearly 50 NYSPHSAA member schools across six sections of New York State were provided funds by the three NFL teams to support the start of the program.
In addition to the donations made by the Bills, Giants and Jets, Nike donated $100,000 which will be divided evenly across the six participating sections to pay for uniforms and other equipment.
Teams will play 6-8 games this spring with the season running until the end of May. Each section may hold local championships if they choose.
Girls flag football is a pilot program which has a goal of gaining NYSPHSAA's "emerging sport" status the following year. Emerging sport is when four sections have at least four or more teams in that sport. A state committee is then formed in that sport and the committee may request the approval to form a regional championship.
——————
IN PHOTO 1: Owego's Maddie Anders (middle). ... PHOTOS BY TIM TAYLOR.