STAC BASEBALL: HORSEHEADS DOWNS OWEGO IN SEMIS, 9-3
(2022-05-15)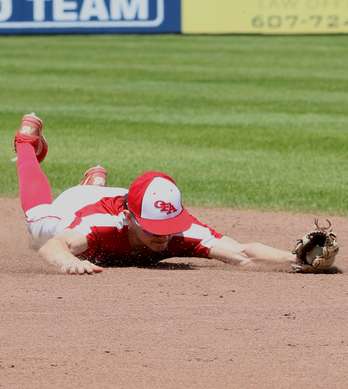 By TIM TAYLOR
Tioga County Sports Report
BINGHAMTON — Horseheads rode a pair of multi-run innings to a 9-3 victory over Owego in the STAC baseball tournament semifinals at Morabito Stadium here Saturday.
"That's something we've been doing pretty well lately, getting some timely hits when we needed them, two-out hits, real big hits," said Horseheads coach Jeff Limoncelli. "You have to do that in games like this. We had some innings where we needed it."
"Got to limit those beginnings," said Owego assistant coach TJ Wegmann, who was filling in for head coach Nick Wegmann.
"When we had runners in scoring position, they had a diving play at third base and their shortstop made a couple of great plays."
The Blue Raiders turned a 1-0 edge into a 4-1 advantage in the bottom of the second inning.
Alex Chrisman hit a shot that glanced off the third baseman's glove. After stealing second, and a walk to Dominick Russ, both base runners found themselves in scoring position for Brody Liddy's sacrifice fly which plated Chrisman. Dylan Ribble and Jackson Cook followed with an RBI double and RBI single, respectively, giving the Raiders a 4-0 cushion.
After Owego trimmed the gap to 4-2 in the top of the fifth, Horseheads responded with four runs in its half of the inning.
Russ reached on a passed ball on a strikeout, then Liddy delivered an RBI single. After Gavin Wert got on base, Ribble followed with a double that rolled into and out of the left field corner, allowing Liddy and Wert to score. Ribble scored two batters later to push the Horseheads advantage to make it an 8-3 ball game.
The Raiders tacked on an insurance run in the sixth when Indian right fielder Jack Rollison was unable to come up with a sliding catch and Russ followed with an RBI double.
Relief pitcher Nate Levey shut down Owego in the seventh. He replaced Riley Loomis in the fourth when Loomis beaned a pair of batters back-to-back.
Loomis gave up one run in three innings of work. Lucas Harbol scored the Indians' initial run, drawing a base on balls and eventually scoring on a passed ball.
Levey surrendered a pair of runs in the fifth. After Ethan Nichols singled and Drew Tavelli reached safely on a third strike passed ball, Peyton Farrell smacked a ground ball out into the six hole, scoring Nichols, and Ben Rollison dribbled a slow-rolling grounder down the first base line to push Tavelli across.
"I thought he did a great job," Limoncelli said. "A couple of hiccups here and there, but for the most part he just threw strikes and kept us going, enough for us to swing the bats and get a win out of it."
Horseheads' initial run came in the first after Cook walked, stole two bases and raced home when Loomis singled to right.
The Raiders went on to defeat Union-Endicott, 10-6, for the championship.
Owego (8-8) turns its attention to the sectional tournament and what it needs to do to ensure some success.
"I think we've just got to keep positive attitudes," Wegmann said. "There are definitely a lot of good things that we saw in the game today and we've just got to keep that going forward. I mean, in the grand scheme of things the STAC tournament, it's really cool, but it doesn't mean anything. So, stay positive and have a good week next week and get ready for Friday."
——————
IN PHOTO 1: Owego's Dan SChofield. ... PHOTOS BY TIM TAYLOR.