SECTION IV GIRLS GOLF: SVEC HOSTS 3-TEAM MATCH
(2022-05-14)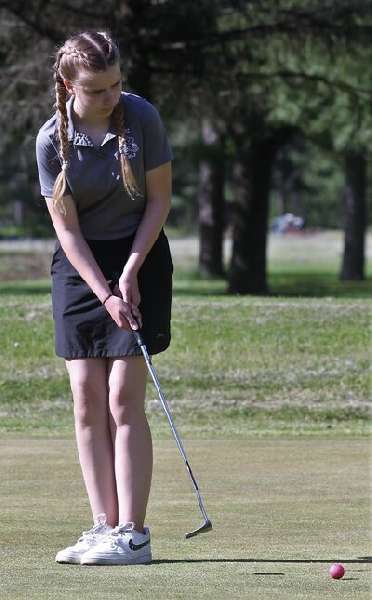 Tioga County Sports Report
CANDOR — The SVEC girls golf team closed out its regular season home schedule against Corning and Lansing at Catatonk Creek Golf Course here Friday.
Corning won the match with a 191 team score. Lansing shot 216 and SVEC had a 236.
Lauren Gillette led the Eagles with a 47. Annika Walle scored a 59, followed closely by Gwen Shaw with a 60. Emma Veasey rounded out the team scoring with a 70.
The Hawks' Lucia Chen picked up the medalist honor with an even-par 36. Hannah Masaki carded a 39, Molly Creath shot 54 and Erika Giaconia had a 62.
Lansing was paced by Hailey Baughan's 44. Zoe Ivery recorded a 54, Kennedy Snyder had a 57 and McKenna Syer added a 62.
SVEC competes in the IAC championships Friday at Tomasso's Golf Course in Waverly.
——————
IN PHOTO 1: SVEC's Emma Veasey. ... PHOTOS BY TIM TAYLOR.