IAC SOFTBALL: CANDOR SCORES EARLY, OFTEN IN 14-0 ROUT OF O-M
(2022-05-13)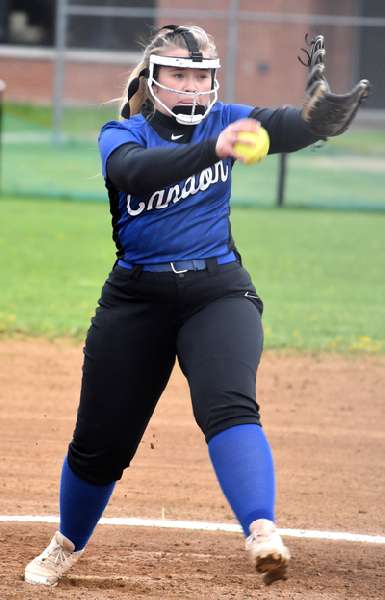 Tioga County Sports Report
CANDOR — Candor pushed a dozen runs across the plate in the first inning and went on to defeat Odessa-Montour, 14-0, in IAC softball action here Thursday.
It was the fifth consecutive victory-for-the Indians, who improved to 6-6 on the season.
Anna Greeno overpowered O-M in the circle and at the plate. She scattered five hits and a walk, and struck out 10 in the process. It was her second straight shutout and third during the win streak. At the plate, she belted a home run and a double, going 2-for-3 with four RBI.
Jill Holmes went 2-for-2 with two runs, Isabel Makie was 2-for-4 with three runs, and Chloe White went 2-for-4 with a triple and one run.
Candor added single runs in the fourth and sixth innings and finished the game with 11 hits.
Candor hosts Waverly at 5 p.m. today.
——————
IN PHOTO: Candor's Anna Greeno … PHOTOS FROM PREVIOUS GAMES BY CATHY DOANE.