UNIFIED BASKETBALL: OWEGO CELEBRATES SENIOR PLAYERS, CHEERLEADERS; WINS OT THRILLER
(2022-05-13)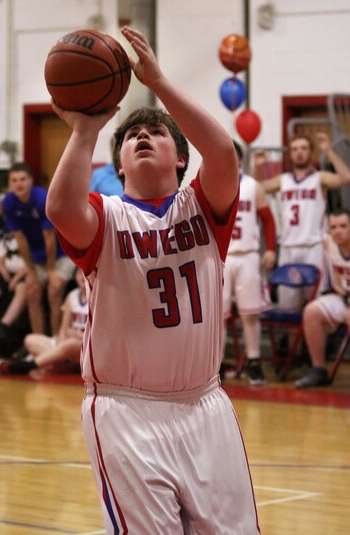 By TIM TAYLOR
Tioga County Sports Report
OWEGO — The Owego Unified Basketball and Cheerleading programs recognized their seniors prior to the start of Thursday's game with Maine-Endwell.
Less than two hours later, those seniors celebrated their final home game with an exciting 36-34 overtime victory against the Spartans.
The Indians clinched the triumph when "partner" Spencer Mead put back a teammate's missed shot with 1:45 remaining in the 3-minute extra session.
It was hard-fought, back-and-forth contest from the start.
Ayden Mott drew a rousing cheer from fans, especially the student section, when he drained a 3-pointer to give Owego a 3-2 lead early in the first quarter.
The game's first eight minutes would feature seven lead changes with the Indians scoring two late baskets to grab an 11-10 lead heading into the second period.
Jonathan Davis blocked a shot and went coast-to-coast, then Jay Barrows followed with a rebound and coast-to-coast bucket to give Owego the slight edge.
The Indians made back-to-back baskets to extend their lead to 15-11, but M-E wasn't about to surrender.
Ryan David-Kadaronak scored twice in the final three minutes to draw the Spartans even at 17 heading into the half.
M-E's Kayla Kika scored the first two baskets of the second half to give the Spartans a 21-17 lead, but Owego rallied to score the next eight points.
Mock, Hailey Gunther, Bobby Struble and Barrows accounted for the bucket that would give the Indians a 25-21 advantage.
The Spartans responded with a pair of baskets from Caleb Petrick to make it a 25-25 deadlock after three quarters.
Noah Kitchcart and Nathan Keener gave Owego a 29-25 lead in the first three minutes of the final frame, but M-E rallied with consecutive baskets from Luke Bigelow, Teaghan Driesbaugh and Petrick to grab a 31-29 lead.
With his team down in the final minute of regulation, Damien Allen pulled up and drained a three-ball with 47 seconds on the clock to give Owego a 1-point edge. Then, with 13 seconds remaining he knocked down a bucket to put the Indians ahed, 34-31.
The apparent comeback was thwarted when M-E canned a buzzer-beating trey to send the game into OT.
Unified sports combine athletes with intellectual disabilities and "partners," athletes without intellectual disabilities,a nd they train and compete in sports alongside one another. Partners provide encouragement, understanding and support to help the athletes realize their potential.
Owego's Unified basketball and cheerleading programs are part of a combined effort between the New York State Public High School Athletic Association and Special Olympics New York to offer Unified Sports to NYSPHSAA member schools.
Project Unify is made up of three main components, according to NYSPHSAA:
Inclusive Sports:
Combines athletes (players with intellectual disabilities) and athletes (players without intellectual disabilities) to create athletic teams for training and competition. Participation is rooted in the principle of meaningful involvement which ensures that every player is given an opportunity to contribute to the success of his or her team through their unique skills. Inclusive activity is among the most conducive ways to break down stereotypes and foster relationships.
Youth Leadership & Advocacy:
Provides students with and without intellectual disabilities opportunities to take on leadership roles in promoting Project Unify activities in their schools and in their communities.
Whole-School Engagement:
Provides opportunities for all students to participate in school-wide campaigns and activities such as Fans in the Stands, Pledge and Plunge, and the R-word Campaign.
——————
IN PHOTO 1: Owego's Damien Allen. … PHOTOS BY TIM TAYLOR.