SECTION IV BOYS LACROSSE: JOHNSON CITY GRABS EARLY ADVANTAGE TO DOWN OWEGO
(2022-05-11)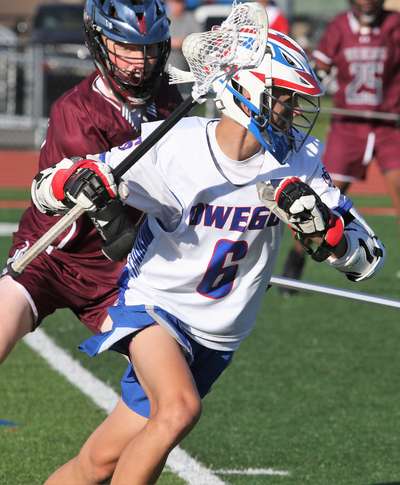 By TIM TAYLOR
Tioga County Sports Report
OWEGO — Johnson City scored two quick goals, then rode that momentum to a 15-8 victory over Owego in Section IV boys lacrosse action here Wednesday.
DJ Neer put the Wildcats on the scoreboard in the first minute at 11:05, then Troegan Lombardini made it 2-0 45 seconds later.
"We didn't come out aggressive enough," Owego coach Andy Race said. "There was a lot of hustle and it was a hot day, but in the end they were just one step ahead of us.
"For the whole first half we struggled to get any points on the board," Race said. "Once we got rolling there in the second half, things started to click a little bit for us, but they definitely jumped out to a quick lead and outplayed us in the first half."
Neer would feed Dylan Luckey and Dino Cade for goals at 7:53 and 3:47, respectively, to double JC's lead at 4-0 heading into the second period.
Lombardini struck again 46 seconds in to the second quarter, then the Indians' defense stepped up and denied JC for nearly eight minutes until Cade notched his second goal with 3:17 remaining in the half.
The Wildcats' offense would get back on track during the final 2:19 of the half as Luckey would wrap goals around tallies from Neer and Lombardini to give JC a 10-0 halftime cushion.
Owego struck early in the third period on an Aidan Both goal 71 seconds into the third period.
Lombardini scored at 8:13, then Alex Brown responded with a goal 50 seconds later to make it 11-2.
Following a score by JC's Brayden Tegan at 5:15, the Indians would strike quickly in response.
Nick Maslin would win the ensuing draw and fire the ball downfield to Parker Sage, who spun and shot past JC goalie Chris Kozlozki and into the back of the net just 10 seconds later, making it a 12-3 game.
Tegan added his second goal of the night at 2:01, then Reese Westcott got in on the Johnson City scoring with 8/10ths of a second left in the quarter.
JC scored its final goal of the evening on a Tegan shot with 7:20 left in the game.
Owego scored the final five goals.
Maslin and Mason Wills tallied at 6:31 and 5:30, respectively, then Both passed to Sage for his second goal of the night at 4:05.
Wills scored his second goal of the contest with 2:40 to go, then fed Maslin for his second goal with 55 ticks on the clock.
Maslin and Willis scooped up five ground balls apiece, Both had three, and Brendan Schofield and Noah Heath added two each.
Aidan Weurthner made 10 saves in goal for the Indians.
Owego (5-10) hosts Elmira Friday at 6 p.m. in the regular season finale.
——————
IN PHOTO 1: Owego's Noah Heath. … PHOTOS BY TIM TAYLOR.