ON TAP TODAY: SCHEDULE IS RELATIVELY LIGHT
(2022-05-11)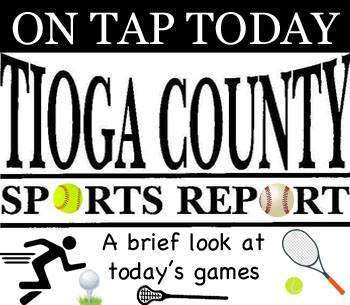 Tioga County Sports Report
TIOGA COUNTY — There are just a few events on the schedule, including a pentathlon and a JV baseball tournament.
BASEBALL
Newark Valley JV at SVEC, 4:30 p.m.:
The Cardinals and Eagles clash in the first round of the IAC JV tournament.
BOYS LACROSSE
Johnson City at Owego, 6 p.m.:
The Indians look to avenge an earlier loss.
BOYS TENNIS
Owego at Section IV class tournament:
The Indians compete in the class sectionals.
SOFTBALL
Elmira Notre Dame (14-4) at Newark Valley (4-12), 5 p.m.:
The Cardinals are coming off a 25-10 win over Odessa-Montour while the Crusaders prep for the IAC Large School championship game.
S-VE (13-3) at Trumansburg (1-12), 4:30 p.m./6:30 p.m.:
The Panthers look to rebound from a heartbreaking loss to Edison with an IAC crossover doubleheader.
TRACK & FIELD
Owego at 3 Bald Guys Pentathlon, 4 p.m.:
Some of the Owego athletes head to Johnson City to test their skills in five different events.