IAC TENNIS: NEWARK VALLEY ENDS REGULAR SEASON WITH WIN OVER US / PB
(2022-05-11)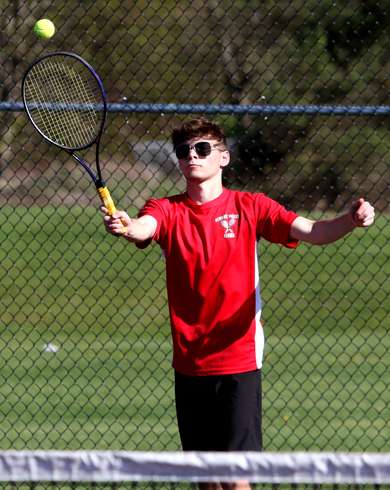 Tioga County Sports Report
NEWARK VALLEY — Newark Valley won both doubles matches and one singles clash to defeat US / PB, 3-2, here Tuesday.
Clara McCloskey defeated George Fearon at second singles, 6-0, 6-2.
At first doubles, Karli Berghorn and Michael Medina downed Fernando Diaz and Abby Mach, 6-2, 6-4.
Austin Smith and Michael Wandell won at second doubles over Kurt Akins and Hannah Pine, 6-1, 6-0.
US / PB's Collin Park bested Alannah Deer, 6-2, 6-1, at first singles.
At third singles, Rachel Parisot went three sets with US / PB's Madison Gannon before falling, 7-6, 1-6, 6-2.
NV hosts the Section IV Class C-D West tournament Thursday.
——————
PHOTOS BY TIM TAYLOR.