IAC TRACK & FIELD: NEWARK VALLEY BOYS FIRST, GIRLS SECOND IN SOUTH LARGE SCHOOL DIVISION
(2022-05-11)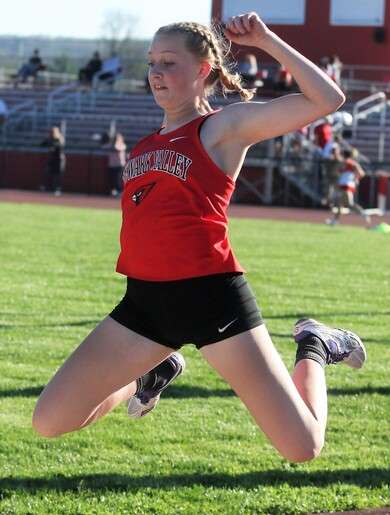 Tioga County Sports Report
NEWARK VALLEY — In what is typically a non-scoring affair, the Newark Valley and Waverly boys and girls track & field teams squared off at the IAC South Large School division meet here Tuesday to determine who would win the division title.
The Cardinal boys outpointed Waverly, 80-61, behind four victories from Jonny Sherwood and two more by Aden Hollenbeck.
In the girls meet, the Wolverines dominated, 104-29.
BOYS
Sherwood won the 110 hurdles, nipping the Wolverines' Micah Chandler in a thrilling finish. Sherwood clocked 17.3 seconds, Chandler 17.4.
The senior distance standout's other wins weren't as close as he won the 800 by 3 ½ seconds (2:13.1), the 1600 by nearly three seconds (4:45.9) and the 3200 by about 13 seconds (10:24.8).
Hollenbeck captured the pole vault, clearing 11-6, and the triple jump with a leap of 39-4.
Also contributing wins for NV were Zion King in the long jump (18-3 ½), Max Flesher in the high jump (5-8) and the 4x800 relay (9:40.7).
Runners-up included Troy Middendorf in the 400 (:56.2) nd triple jump (33-3 ½), Landon Spoonhower in the high jump 5-8 and long jump 18-3 ¼), Elijah Williams in the 400 hurdles (1:12.8), Flesher in the 200 (:24.4) and the 4x400 relay (4:01.2).
Third place went to Mark Vosburgh in the 400 hurdles (1:14.5) and 3200 (11:38), Hollenbeck in the long jump (16-9 ½) and Spoonhower in the pole vault (10-0).
GIRLS
Kathryn Simmons recorded three victories for the lady Cardinals. She won the 400 hurdles with a time of 1:15.7, the high jump, clearing 4-6, and the long jump with a leap of 15-4 ½.
Also winning for NV were Emma Smith in the 3,000 with a time of 13:42.1 and Kyle Carrier in the discus with a toss of 74 feet.
Claiming second place were Carrier in the shot put (26-4 ½), the 4x800 relay (12:36.8) and the 4x100 relay (:57.8).
Coming in third were Monica Escalante in the 3,000 (15:37.7), Kathryn Greene in the shot put (23-4 ½) and the 4x400 relay (5:28.5).
The Newark Valley Invite has been cancelled. The team is traveling to Corning on Friday and U-E on Saturday.
——————
IN PHOTO 1: NV's Anaya Aylesworth. ... PHOTOS BY TIM TAYLOR.