IAC SOFTBALL: NEWARK VALLEY HANDLES ODESSA-MONTOUR, 25-10
(2022-05-09)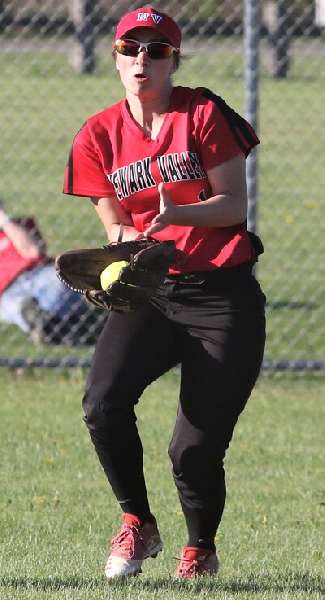 Tioga County Sports Report
NEWARK VALLEY — Newark Valley erupted for 10 runs in the third inning as it cruised past Odessa-Montour, 25-10, in IAC softball action here Monday.
With the Cardinals leading, 3-0, Leah Austin Whittaker led off with a triple, Kalyna Graham and Joslyn Wright reached on errors, then Katie Berghorn singled in a run. Kayden Rockwell, Anna Kaelin and Rae Mathewson drew walks, Hayley Beebe singled, Mackenzie Malone reached on an error, and Whittaker connected for a double. When all was said and done, NV was sitting on a 13-0 cushion.
The Indians got on the scoreboard in the fourth, but NV got the run back.
O-M took advantage of seven walks, a hit batter and a single to score six runs in the fifth, cutting the lead to 14-7.
Newark Valley countered with a half-dozen runs in its half of the inning. A double by Whittaker and a single from Wright highlighted the surge. The duo, plus Rachael Walker, Berghorn, Kaelin and Mathewson scored the runs to make it a 20-7 game.
Odessa scored three more runs in the sixth, but NV countered with five to end the game via the mercy rule.
Walker and Rockwell had hits, Whittaker, Graham and Berghorn walked and Wright reached on an error. All but Rockwell scored.
Whittaker went 3-for-4 with four runs and an RBI; and Walker was 2-for-4 with two runs and an RBI. Beebe, Wright, Berghorn, Rockwell, Kaelin and Mathewson added one hit apiece.
Wright and Kaelin scored four runs each, and Berghorn and Mathewson tallied three apiece. Beebe added two RBI and two stolen bases, and Walker stole two bases.
NV (4-12) hosts 4th-ranked Elmira Notre Dame Wednesday.
——————
IN PHOTO 1: NV's Hayley Beebe. … PHOTOS BY TIM TAYLOR.