IAC BASEBALL: NEWARK VALLEY FENDS OFF SVEC IN 9 INNINGS
(2022-05-09)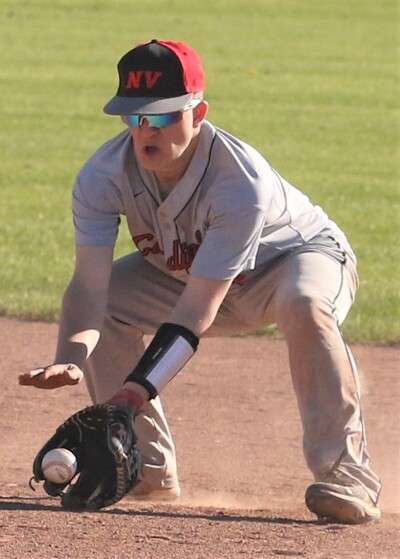 Tioga County Sports Report
NEWARK VALLEY — Newark Valley saw a five-run lead slip away, but regrouped to defeat SVEC, 6-5, in nine innings in IAC baseball action here Monday.
Luke Rinkavage singled and scored on Will Craparo's two-out double to center to secure the Cardinals' victory.
NV ran out to a 5-0 advantage on the strength of a four-run first inning.
The Eagles loaded the bases with two away in the first, but couldn't score, then NV put on a two-out show in its half of the inning.
Mike Wandell smacked a double and scored on an error off the bat of Rinkavage. After Will Craparo singled, an error off the bat of John Mincher plated Rinkavage.
Derek Payne's double pushed Craparo and Mincher across for the 4-0 advantage.
In the second, Jonah Williams walked, advanced to second on a passed ball, then scored on a Ryan Rhodes single to make it 5-0.
The Eagles got a run back in the third when Cody sayre singled, stole second, moved to third and scored on a pair of passed balls.
SVEC continued to rally in the fourth. David Vega and Cody Lavigne were hit by pitches and in between Seth McBride delivered a single. Vega would score on a passed ball followed by McBride on a ground out and Lavigne on a passed ball, cutting the gap to 5-4.
In the seventh, Sayre would reach base when a dropped third strike became a passed ball, then he would steal second. He would then steal third and score to tie the game.
Rhodes and Wandell hit two-out singles in the bottom of the inning, but were stranded on base.
Jayden Grube led off the eighth with a single, but Wandell struck out the side.
Payne reached on a two-out error in the NV half of the inning, Austin Weeks singled and Jonah Williams drew a base on balls, but a fielder's choice ended the threat.
In the ninth, Sayre singled and Jewell took one for the team, but the Eagles were unable to score.
Rhodes, Wandell and Craparo had two hits apiece for NV, Rinkavage had two runs and Payne had a pair of RBI.
Sayre had two hits and two RBI to pace the SVEC effort.
On the mound, Rinkavage struck out 10 over six innings. He surrendered four runs, two of which were earned, on four hits and three walks. Wandell gave up one unearned run on one hit while fanning seven batters in two innings. Ethan Skeide pitched the ninth, giving up one hit and striking out one.
Hunter Harmon went 8 ⅔ on the hill for the Eagles, surrendering five unearned runs on seven hits and two walks while striking out 11 batters. Kameron Smith gave up one unearned run on two hits in relief.
NV (7-6) visits SVEC (2-11) at Candor Thursday.
——————
IN PHOTO 1: NV's Jonah Williams. … PHOTOS BY TIM TAYLOR.