IAC TENNIS: NEWARK VALLEY DOUBLES PAIR PICKS UP WIN IN LOSS TO ND
(2022-05-09)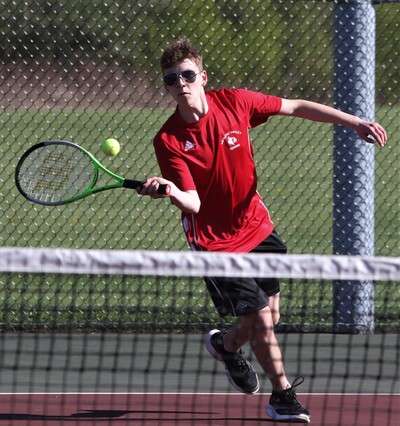 Tioga County Sports Report
NEWARK VALLEY — Austin Smith and Michael Wandell picked up a victory as Newark Valley dropped a 4-1 decision to Elmira Notre Dame in IAC tennis action here Monday.
Competing at at second doubles, the duo defeated ND's Erin Connolly and Liz Kraeger, 6-1, 6-2.
The Crusaders won the remaining matches in two sets.
At first singles, Alexandra Meier downed Alannah Deer, 6-1, 6-2.
Kate Welliver topped Clara McCloskey, 6-4, 6-4, at second singles.
Jade Nordin bested Rachel Parisot at third singles, 6-0, 6-2.
In the first doubles tilt, Divye Agrawal and Emmalie Barkley beat Karli Berghorn and Michael Medina, 6-2, 6-4.
ND improved to 7-2 with the win.
NV (2-5) hosts Union Springs / Port Byron (3-5) Tuesday.
——————
IN PHOTO 1: NV's Michael Medina. ... PHOTOS BY TIM TAYLOR.