IAC TRACK & FIELD: CANDOR, NEWARK VALLEY COMPETE AT ITHACA RELAYS
(2022-05-08)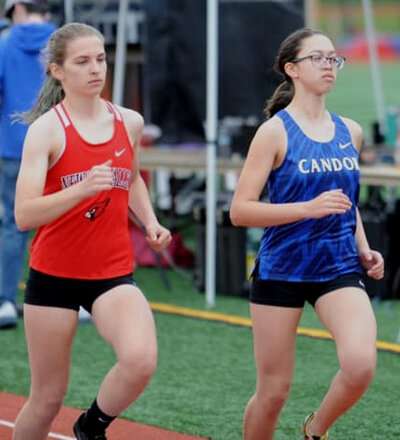 Tioga County Sports Report
ITHACA — Candor and Newark Valley competed in the Dan Fravil Memorial Ithaca Relays here Friday.
CANDOR
The Indians picked up a win in the boys 4x400-meter relay with a time of 3:49.03.
In the sprint medley relay, the girls placed fifth in 5:09.09 and the boys took sixth, clocking 4:10.71.
In individual events, Garrett Lindhorst and Cole Strong tied for fourth in the discus, each tossing the disc 86-6.
NEWARK VALLEY
The boys team grabbed a trio of individual runner-up showings and a pair of seconds in the relays.
The sprint medley (Troy Middendorf, Max Flesher, Landon Spoonhower, Jonny Sherwood) and 4x800 relay (Danny Pirger, Logan Rhodes, Jackson Hoover, Marcos Escalante) posted times of 3:54 and 9:38.15, respectively.
Aden Hollenbeck took second in the pole vault reaching a height of 10-6, and the triple jump with a leap of 40-4.
Max Flesher was the runner-up in the high jump, clearing 5-8.
Landon Spoonhower placed fourth in two events, the high jump at 5-4 and the pole vault at 10 feet.
Zion King was fifth in the long jump, leaping 18-10.
Austin Cotrill took sixth in the shot put with a heave of 32-7 ¼.
The 4x400 relay was fourth with a 3:50.91 and the distance medley relay took sixth in 18:14.37.
In the girls meet, Kylee Carrier finished third in the discus with a toss of 77-3 and sixth in the shot put with a throw of 25-9 ½.
Kathryn Schanbacher took third in the high jump at 4-6.
Kathryn Simmons placed fifth in the long jump with a leap of 14-8 ½.
The lady Cardinals took third in the 4x800 relay (Emma Dingman, Emma Smith, Monica Escalante, Harley Switzer) with a time of 12:40.49 and sixth in the distance medley relay at 16:34.78.
——————
PHOTOS COURTESY OF CRISTINA ROSSI.