THE SPORTS REPORTS: ATHENS' BRADLEY NAMED ALL-REGION MALE 'ATHLETE OF WINTER;' OWEGO'S BANGEL ALSO HONORED
(2022-04-03)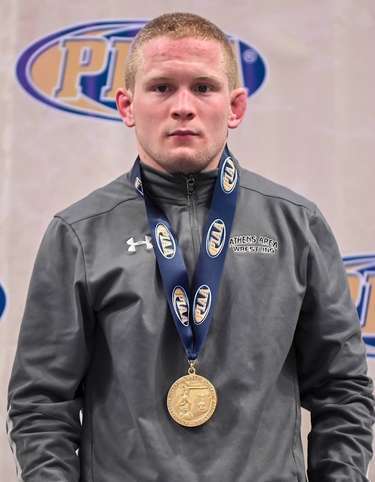 The Sports Reports
There are few things tougher to do than win a PIAA wrestling gold medal, but Athens senior Gavin Bradley did just that and is
The Sports Reports
' 2021-22 All-Region Male "
Athlete of the Winter.
"
Bradley, who became the second Athens wrestler to win four PIAA medals, improved on his second-place finish at 113 pounds as a junior, by winning the 113-pound title this season.
Bradley finished his senior season with a 39-1 record. His lone loss came in the District 4 finals against Montoursville's Branden Wentzel, but he avenged that loss with wins over Wentzel in the Regional and State finals.
Bradley finishes his career as Athens' eighth state champion, and with a 152-19 career record — third on the program's all-time wins list.
He was The Sports Reports' All-Region "Wrestler of the Year."
The 2021-22 "Baker's Dozen Male
Athletes of the Winter
:"
Gavin Bradley, wrestling, Athens:
See above.
Ryan McNutt, swimmer, Corning:
McNutt, who was dominant this season, breaking school or pool records nearly every meet,  was a state champion, and two-time state medalist breaking records throughout the season.
McNutt is committed to compete at Penn State. He ended his high school career in style, winning the state title in the 100 free with a time of 45.58. Not only was it a state title, but it was also a Federation title as the best time of any swimmer, public school or catholic school, in the state of New York. He also had a third-place finish in public school in the 200 free.
He was The Sports Reports' All-Region Boys '
Swimmer of the Year
."
Gianni Silvestri, wrestling, Tioga:
Silvestri put together a 38-1 record, winning his last 38 matches on the way to his second state title. He won the IAC Championships, the Section IV Qualifier, and the Section IV, Division 2 title. He is 90-2 over the last three seasons, including the truncated 2021 season.
Jack Gregorski, indoor track & field, Corning:
Gregorski had a big performance on the biggest stage for the Hawks. He went sub-nine minutes in the 3,200 meters at States to break the Section IV record and win the NYSPHSAA title in the process.
Gregorski was also a part of a state medal winning relay for the Hawks, and was an All-American in a pair of relays, running the 1600 leg of the DMR and running in a 4x1600 relay, going under 4:20 in both of those races.
Jerrell Sackett, swimming, Waverly:
Sackett broke Waverly's 50-yard freestyle record in the prelims at the State meet, swimming a 21.05. The next day he swam a 21.22 to win the state bronze medal. He also won the Section IV, Class B titles in the 50- and 100-yard freestyle sprints.
Sackett also swam on three record-breaking Waverly relays that qualified for States — brining home a silver medal in the 200 free relay, and a 9th-place medal in the 400 free relay.
Ousmane Duncanson, wrestling, Tioga:
Ousmane Duncanson wrapped up his first season at Tioga with a 44-2 record, and a state title. His two losses came against Division I place-finishers — 152-pound state champ and Princeton-bound Rocco Camillaci of Hilton, and Corning's Ethan Hart.
Ty Barrett, basketball, Troy:
Barrett will go down as one of Troy's all-time best players, and the face of a league-wide senior class that put NTL boys' basketball back on the District IV map. He averaged 26.5 PPG this year, and scored over 1950 points to break the school record. The Trojans defended their NTL Division-I title, while also reaching their first District IV title game for the first time since 2004. Barrett's ability to seemingly score at will confounded defenses, and awed the crowds.
Barrett was The Sports Reports' All-Region Boys Basketball "
Player of the Year.
"
Nick Woodruff, wrestling, Wyalusing:
Woodruff posted a 40-2 season, culminating with a third-place finish at the PIAA Championships. He won the North Section, District 4, and Northeast Regional titles.
Kade Sottolano, wrestling, Williamson:
Sottolano put together a 38-4 record, culminating with a fourth-place finish at the PIAA Championships. He won the North Section Tournament, then finished third at the District 4 and Northeast Regional championships. He also won the rugged Bedford Tournament.
Ashton Bange, indoor track & field, Corning:
Bange had a huge performance at the state meet in the 1600 meters, bringing home a runner-up finish among the NYSPHSAA public school division going under 4:20 for the first time in his career. He also medaled at states in a relay and was a part of two relays at nationals that earned him All-American honors.
John Bangel, basketball, Owego: Bangel used his 6-foot, 7-inch frame to lead the Indians to a runner-up showing in the Section IV, Class B tournament, where they fell to state semifinalist Seton Catholic. He averaged 9.5 rebounds and 2.1 blocks per game, to go with 14.0 points per game.
He was The Sports Reports' Boys Basketball "Defensive Player of the Year."
Caden Bellis, wrestling, Tioga:
Bellis came up just short in a 6-5 loss to unbeaten Joe Sparacio of Mattituck in the state finals. He was 39-2 on the season (his other loss coming to the third-place finisher in his weight class at States, Nick Noto of Honeoye Falls-Lima) and is 91-6 over the last three seasons, including a fourth-place finish at States in 2020.
Donavan Smith, wrestling, Tioga:
Smith finished up a 42-4 season with a runner-up finish at States, dropping a 5-3 decision to unbeaten Jackson Polo of Cold Spring Harbor. He is 91-8 over the last three seasons, with a pair of Section IV titles.