THE SPORTS REPORTS: TIOGA'S SINDONI NAMED ALL-REGION FEMALE 'ATHLETE OF WINTER;' NEWARK VALLEY DUO ALSO HONORED
(2022-04-03)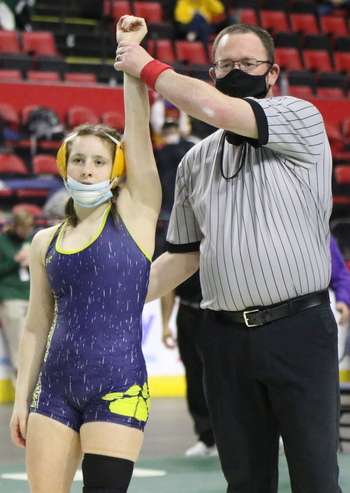 The Sports Reports
Tioga junior Emily Sindoni is a pioneer in the sport of girls wrestling. Scoring a pair of first-period pins, she became the first-ever champion at the inaugural Section IV Girls Wrestling Championships, and is T
he Sports Reports'
2021-22 "
Female Athlete of the Winter
."
Sindoni, who has nearly 50 wins in her career against boys, followed up her Section IV title by becoming Tioga's first-ever champ at the New York State Intersection Women's Wrestling Championships, where she racked up four first-period pins to win the gold in the 126-pound weight class, and earn "Most Outstanding Wrestler."
Two weeks later, at the New York State Girls Folkstyle Championships, Sindoni registered three pins, including two first-period falls, to win a gold medal at 126 pounds.
She also went on to win a National Championship at the NHSCA High School Nationals, winning four bouts, including a fall in the finals. She registered two falls, a tech fall, and a 6-0 decision on her way to the finals.
Sindoni was the All-Region Girls "
Wrestler of the Year
."

2021-22 "BAKER'S DOZEN FEMALE ATHLETES OF THE WINTER"
Emily Sindoni, wrestling, Tioga:
See above.
Ellie DeRosa, indoor track & field, Corning:
DeRosa had a magical run through the postseason for the Hawks — a truly amazing run over a two-week span.
Heading into the sectional meet, DeRosa was throwing highs of around 43 feet. She hit 46 feet at the sectional meet, and then hit nearly 50 feet at the state meet to improve seven feet in a two week span to capture the state title.
Jalea Abrams, basketball, Elmira:
Abrams led the region in scoring at 21.2 points a game this year, and added 2.9 steals a contest. She hit seven 3-pointers in a game and had a region-high of 40 points in a win over Norwich.
She was the All-Regions Girls Basketball "
Player of the Year.
"

Hayley Beebe, basketball, Newark Valley:
The junior point guard brought determination and hustle onto the hardwood — and was adept at controlling the pace of the game.  At, 5-3, Beebe averaged 7.7 points on a team which boasted three players who scored in double digits frequently. She also grabbed 3.8 rebounds and dished out a team-high 2.8 assists per game.
Defensively, she was constantly an in-your-face menace to opponents. She led the Cardinals with 4.3 steals per game and nearly 65 percent of her rebounds came at the defensive end of the court.  Beebe was also recognized as the Basketball Coaches Association of New York Class C Player of the Year.
She was the All-Regions Girls Basketball "
Defensive Player of the Year.
"
Paige Manchester, basketball, Towanda:
The 6-foot, 2-inch point guard did it all for Towanda this year as a playmaker, shot-maker, rebounder, and defender. She teamed with Porschia Bennett to lead the Knights to an undefeated league season, and to the district title game, doing her best to utilize her teammates around her with her court vision. She was also key defensively, as part of their wall around the basket in their half court 2-3 zone.
Mackenzie LaForest, wrestling, Waverly:
LaForest scored a pair of first-period pins to win a Section IV title, then went 4-1 to win a silver medal at the New York State Girls Folkstyle Championships.
Taylor Benjamin, basketball, Newark Valley:
Benjamin averaged 16.7 points per game to lead a group of three Cardinals who averaged double digits. Benjamin, a senior, also pulled down 2.6 offensive rebounds and handed out 2.5 assists per game.
She was the All-Regions Girls Basketball "
Offensive Player of the Year
."
Taegan Walsh, skiing, Corning:
Walsh, an 8th-grader, won the Section 4 championship in Alpine Skiing this year, and made it to states in both the Slalom and Giant Slalom in her first season as a one-person ski team at Corning.
In the Giant Slalom, the Corning skier finished 37th out of 64 competitors with a total time of 2:54 at States. She had a top time of 1:25.4 in her first time down the course. Walsh was 42nd in the Slalom out of 64 competitors. She had a total time of 2:00.98, including a 50.9 in her first time down the course.
Walsh was the All-Region "
Newcomer of the Winter.
"
Maisie Neuber, basketball, NEB:
Neuber was one of the most consistent players the region has seen in recent years, with her ability to score both inside and outside, plus how she gobbles up steals at the top of the Panther press. Her physical, athletic style allowed her to play through contact, and she'll go down as one of the best two-way players in the NEB girls' basketball program.
Porschia Bennett, basketball, Towanda:
Bennett continued to improve as a player this year, moving to the front court offensively, and turning into an athletic finisher around the basket. Defensively, she continued to terrorize ball handlers in the open court with her length and athleticism, and played her best game when her team needed it in the district semifinals, scoring 24 points in a win over Line Mountain.
Emma Coolidge, basketball, Wellsboro:
Playing with a majority of underclassmen, Coolidge was the cog that made the 11-11 Lady Hornets' wheels turn. The senior scored 11.1 points per game and handed out 3.4 assists per game. While routinely matched-up with the opponents' biggest threat, regardless of position, Coolidge grabbed 7.5 rebounds per game and came up with 3.4 steals per game.
Lacey Hinman, wrestling, Troy:
Hinman, along with her Athens teammates, will go down as a trailblazer for the sport as the PIAA considers sanctioning girls' wrestling. She took second at the state level, was a regional champion, while winning other tournament titles during the season.

Sarah Lawson, indoor track & field, Corning:
Lawson had a top 10 finish at the state meet, and followed that up with an All-American finish.
At states, Lawson was 10th in the 3,000 meters in a time of 10:07.58. She also helped the Hawks 4x800 relay finish 11th in the state. Lawson then went to nationals where she took fifth in the 5,000 meters to earn All-American honors.