THE SPORTS REPORTS: CORNING 8TH-GRADER NAMED GIRLS 'NEWCOMER OF THE WINTER;' FOUR TIOGA COUNTY GIRLS MAKE BAKER'S DOZEN
(2022-04-02)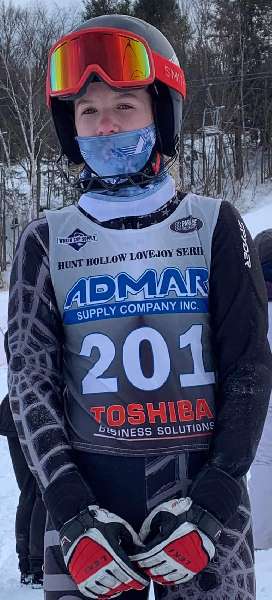 The Sports Reports
She's not even in high school yet, and Teagan Walsh is already a Section IV champion and a state qualifier in two events. She headlines
The Sports Reports
' 2021-22 "
Baker's Dozen Female Newcomers of the Winter
" as the top newcomer.
Walsh, an 8th-grader, won the Section 4 championship in Alpine Skiing this year, and made it to states in both the Slalom and Giant Slalom in her first season as a one-person ski team at Corning.
In the Giant Slalom, the Corning skier finished 37th out of 64 competitors with a total time of 2:54 at States. She had a top time of 1:25.4 in her first time down the course.
Walsh was 42nd in the Slalom out of 64 competitors. She had a total time of 2:00.98, including a 50.9 in her first time down the course.
The 2021-22 "
Baker's Dozen Girls Newcomers of the Winter
:"
Taegan Walsh, skiing, Corning:
See above.
Madison McEvoy, basketball, Owego:
McEvoy led the Indians with 10.5 points and 3.5 assists per game. She also averaged 3.1 rebounds and 3.0 steals per game. She was named a tournament all-star for both the Charlie Sibley Memorial Tournament in Owego and the Hoops for the Hospital Tournament in Syracuse.

Raeann Craft, wrestling, Owego:
Craft won the 118-pound title at the inaugural Section IV Girls Wrestling Championships, She was 2-0 with two falls. Craft was 13-9 on the season, including a 10-7 mark against boys.
Kendall Kitchen, basketball, Canton:
Despite being a rookie, Kitchen may have been Canton's most consistent player this season, at least on the offensive end. She scored about 10 points per game, and even handled some point guard duties once teammate Aislyn Williams went down with an injury. Kitchen was also instrumental in Canton's first district win in 20 years.
Paige Logsdon, basketball, Wellsboro:
Logsdon was an impressive presence in the paint for the 11-11 Lady Hornets during her inaugural season, averaging 8.7 points, 8.8 rebounds, 2.2 steals and a block per game.
Maddy Gill, indoor track & field, Corning:
Gill decided to give track and field a try this year in order to prepare for lacrosse season, and she had an instant impact. She was one of the best jumpers in Section 4, and also a member of Corning's 4x200 relay team, which made it to states. She wound up going to states as both an individual, in the triple jump, and as a member of the relay.
Addy Wheeler, basketball, Athens:
Wheeler, a skilled ball-handler with a basketball IQ beyond her years, averaged 7 points, 4.3 rebounds, 3.7 steals, and 2.7 assists per game. She was also a threat from behind the 3-point arc, connecting on 21 3-pointers, and a top-notch defender.
Bryn Zionkowski, basketball, Wyalusing:
After waiting in the wings, Zionkowski was able to make her mark this year as a senior, leading her team in scoring at just under 10 points per game, and being one of the most prolific 3-point shooters of the season. She had 11 games where she hit three 3-pointers or more this year.
Madison Smith, bowling, Elmira:
Smith just missed making states, taking 11th at the state qualifier with a total of 1,691 for nine games, a 187 average with a high series of 586 and high game of 212. Just an eighth-grader, Smith was one of the top local girls bowlers all season long.
Haylie Davenport, indoor track & field, Waverly:
After consistently winning the 1,500-meter race walk throughout the season, Davenport won the event at the Section IV Indoor Track & Field State Qualifier.
Megan Wolfe basketball, Horseheads:
Wolf scored 104 points this year and had the assignment of guarding the other teams best players. She defended girls going to Penn State and Fordham and many players who will be all-conference selections.

Raven McCarthy-Gardner, wrestling, Athens:
A first-year wrestler after three years on the swim team, McCarthy-Gardner finished fourth at the PIAA State Tournament, and did it the hard way. After losing in the opening round, McCarthy-Gardner won four straight matches before falling in the third-place match. She also finished second at the Queen of the Mountain Tournament in December.

Taylor Dalton, basketball, Owego:
Dalton, who has the potential to be a lockdown defender, provides a different level of athleticism and quickness. She averaged 3.4 points, 3.7 rebounds, 1.6 assists, 4.0 steals, and 3.7 deflections per game.
Alyssa Parks, basketball, Troy:
Parks showed off her strong two-way guard skills for the Trojans, showing the ability to pick up steals and play tough defense at one end, while getting to the basket and hitting shots at the other. By mid-season, she had taken over the point guard duties on a team that won 12 games.