THE SPORTS REPORTS: TIOGA'S HARRINGTON TOPS LIST OF ALL-REGION 'BAKER'S DOZEN COACHES OF THE WINTER'
(2022-04-01)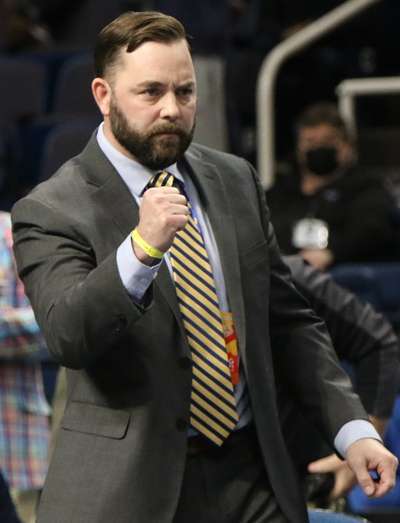 The Sports Reports
Kris Harrington
directed the Tioga wrestling team to a perfect season, and a pair of state titles. He headlines the
The Sports Reports'
2021-22 All-Region "
Coach of the Winter
."
Two-thirds of the Tioga wrestling team played on the state championship football team, which won the state title on the same day the wrestling regular season started.
Yet, Harrington directed the Tigers to a perfect 16-0 record, their third straight Section IV Duals title, and first New York State Duals title.
Tioga also won its fifth consecutive Section IV, Division 2 title, and third straight New York State Division 2 championship with a record-setting point total.
The Tigers qualified nine wrestlers for States, and seven of them medaled, including two state champs, two runners-up, and a third-place finisher.
2021-22 ALL-REGION COACHES OF THE WINTER
Kris Harrington, wrestling, Tioga:
See above.
Jamie Nichols, girls basketball, Corning:
Guided the Hawks through a season for the ages. Corning made their first-ever trip to the sectional final, and won their first-ever sectional championship as a merged program.
The Hawks then won their first-ever regional championship as a merged program and reached the state final four.
Corning, which didn't have a player over 5-foot, 8-inches tall, or a scorer who put up more than 15 a game this year, was the epitome of team basketball all season long.

Greg Schweiger, girls basketball, Newark Valley:
Schweiger led Newark Valley to a NYSPHSAA Class C runner-up.
Under his watch, the Cardinals posted a 24-2 record and had a 23-game win streak. They went 9-1 against opponents from larger classifications and 5-1 against state-ranked foes. Only four teams remained within 20 points of the Cardinals when the final buzzer sounded.
Lyle Wesneski, wrestling, Canton:
With its football team advancing to the PIAA semifinals, the Canton wrestling team got a late start. Nearly all of Canton's roster played football, and they didn't start practice until mid-December, and effectively didn't start their season until after the New Year.
Essentially, Wesneski and the Warriors fit two months worth of dual meets into one month, and went to a tournament every weekend in January. They were NTL champions, and North Section champions, and finished third at the District 4 Duals. They had two state qualifiers, and one medalist.
Brian Litzelman, boys basketball, North Penn-Liberty:
NP-Liberty graduated four starters from a District 4 runner-up in 2021, yet Litzelman led them to 15 wins, including two District IV playoff games.
The Mounties were District 4 runner-up to State runner-up Bishop Neumann, and also made an appearance in the State playoffs.
Brent Keyes, boys basketball,
Wyalusing: Keyes had a veteran squad, but one that battled illness in the middle portion of the year. The Rams held on to win the NTL Small School title. They also successfully defended their district title, with Keyes leading them to their third straight district title game.
Brett Owen, wrestling, Horseheads:
Owen guided the Blue Raiders to STAC, Section 4 and Section 4 Duals titles.
Horseheads won the titles at the STAC meet and at the Section 4 Championships, and they won the Section 4 Duals title to earn a trip to the state duals. Horseheads qualified four athletes for the Division 1 Championships.

Jim Lister, boys basketball, Athens:
Lister directed Athens to a 21-8 record, and a berth in the PIAA Class 4A "Sweet 16." Athens split the regular-season series with NTL Large School champ Troy, then beat the Trojans in the rubber match to win the NTL Showdown.
The Wildcats made their first appearance in a District 4 Championship game since 2000. They also won their first state playoff game in 66 years.
William Condon, bowling, Corning:
The Corning boys bowling team finished third in the State this year, and made a run for the state title. Using a strong second set of three games, the Hawks rallied in the afternoon and nearly came away with a state title, bringing home a bronze medal.
The Hawks won the state qualifier and had two of the top 10 finishers in the team competition at states.
Chris Evans, boys basketball, Owego:
Evans led the defensive-minded Indians to the Section IV Class B championship game, where they finished the season as the runner-up to state semifinalist Seton Catholic.
Rusty Virkler, bowling, Owego:
Virkler led Owego to a 48-2 dual match record, and the STAC Division 3 and overall conference championships, as well as the Class B crown. The Indians would also finish as the runner-up in the team chase at the Section IV State Qualifier and had one of just two state qualifiers from Tioga County.
Ben Beebe, girls basketball, Northeast Bradford:
NEB battled through a season that saw injuries to two of its top players, but still won the NTL Small School Division. In the playoffs, the Lady Panthers put up tough fights against Southern Columbia (state runners-up) and Mt. Carmel (state final four) in the toughest district bracket in the state.
Craig Pequignot, wrestling, NP-L:
Craig Pequignot and his staff led a very young Mounties team to a 6-8 dual meet record, despite routinely forfeiting at least four or more weight classes on any given night. They finished in the top six at three different rugged tournaments, despite being short-handed. NP-L advanced five wrestlers to Districts, and junior Kohen Lehman made a return trip to the State Tournament.