THE SPORTS REPORTS: TROY'S BARRETT HEADLINES ALL-REGION BOYS BASKETBALL TEAM; OWEGO'S BANGEL ALSO EARNS TOP HONOR
(2022-03-31)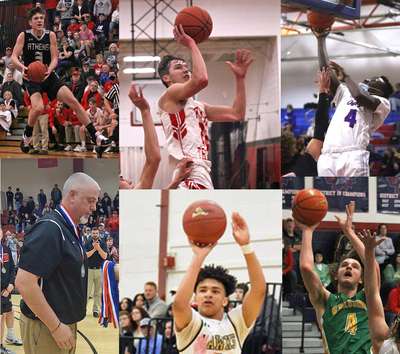 The Sports Reports
It was quite the boys' hoops season on both sides of the border, with talent showing through within their leagues, and into the playoffs.
Corning were sectional champions and reached the Elite Eight in the largest class of New York, while Elmira and Owego both reached sectional finals.
It was a historically good postseason for PA, with four NTL teams — NP-Liberty, Wyalusing, Troy, and Athens — making district finals, as the Rams came away with the title.
The top scorer in the area, and one of the most exciting players in recent years, was Troy's Ty Barrett. Barrett put up 26.5 PPG, to go with 6.0 RPG and 6.0 APG, leading the Trojans to their second straight NTL Division-I title, and their first district title berth since 2004. He scored 30 or more points in eight games this year, and had over 20 points in 19 regular season games. All of that makes him The Sports Reports All-Region Boys' Basketball
"Player of the Year."
Athens' J.J. Babcock could do it all for the Wildcats - run the point, score inside, and hit the 3-ball — as he led his team to their first district title game since 2000, and their first state win since the 1950s.
His averages of 15.7 PPG, 4.6 APG, and 51.6 FG percentage make Babcock The Sports Reports All-Region Boys' Basketball "Offensive Player of the Year."
Owego's John Bangel used his 6-foot, 7-inch frame to lead the Indians to a runner-up showing in the Section IV, Class B tournament, where they fell to state semifinalist Seton Catholic. He averaged a 9.5 RPG and 2.1 BPG, to go with 14.0 PPG — all team highs — to earn The Sports Reports All-Region Boys' Basketball
"Defensive Player of the Year"
nod.
Corning's Isaiah Henderson is one the best scorers in Section IV, a 6-foot, 4-inch walking mismatch, who also happens to be one of the best shooters in the section.
Henderson scored 18.7 PPG this year, shooting 40-percent from deep, and 83-percent from the free throw line. He made almost three 3-balls per contest this year, as he helped lead Corning to the STAC West title, and then capture the Section IV title, making it to the Elite 8 in the state. All that makes Henderson The Sports Reports All-Region Boys' Basketball
"Newcomer of the Year."
Nobody had quite the jump in production like Wyalusing's Blake Morningstar had. He went from a back-up center a year ago to the best low post player in the league, with averages of 19.3 PPG and 10.1 RPG. Morningstar also helped lead Wyalusing to an NTL Division-II title, and a second straight District IV, Class AA title, making him The Sports Reports All-Region Boys' Basketball
"Breakout Player of the Year."
Few teams lost as much in the off-season as NP-Liberty did, saying good-bye to their stalwart players that had won them two straight NTL Division-II titles, along with a District IV, Class A finals appearance. Yet, with four newcomers in the line-up, they were able to challenge for the NTL Division-II title, and once again reach the District IV, Class A title game again, making the state tournament for the second time in three years. That makes their head coach, Brian Litzelman, The Sports Reports All-Region Boys' Basketball
"Coach of the Year."
——————
BOYS' ALL-REGION
Player of the Year:
Ty Barrett, Troy
Offensive Player of the Year:
JJ Babcock, Athens
Defensive Player of the Year:
John Bangel, Owego
Newcomer of the Year:
Isaiah Henderson, Corning
Breakout Player of the Year:
Blake Morningstar, Wyalusing
Coach of the Year:
Brian Litzelman, NP-Liberty
FIRST TEAM
Ty Barrett, Troy
JJ Babcock, Athens
John Bangel, Owego
Isaiah Henderson, Corning
Blake Morningstar, Wyalusing
Jackson Casey, Corning
Amauri Truax, Horseheads
Joey Tomasso, Waverly
SECOND TEAM
Will Zimmer, Candor
Isaiah Niemczyk, Canton
Liam Manning, Wellsboro
Karson Dominick, NP-Mansfield
Markus Brock, S-VE
Xavier Jones, Elmira
Joe Bangel, Owego
Grady Cobb, Wyalusing
THIRD TEAM
Jeremy Truax, Horseheads
Derek Litzelman, NPL
Evan Sickler, Tioga
McGwire Painter, CV
Landen Burch, Corning
Mikey Middaugh, Elmira
Steven Gough, ND
Mason Imbt, Troy
FOURTH TEAM
Nick Thomas, Candor
Malaki Owens, ND
Conner Adams, Wellsboro
Anthony Brooks, Elmira
Mason Lister, Athens
Brody Burleigh, NPM
Caiden Williams, Canton
Dante Ottaviani, Towanda
ALL-DEFENSIVE TEAM
Tyler Doster, S-VE
Seth Myles, Elmira
Darryn Callahan, Wellsboro
Jackson Taylor, Troy
Kashawn Cameron, Wyalusing
Tucker Brown, Athens
Gavin Godfrey, Tioga
Jay Pipher, Waverly
Weston Bellows, Canton
Nesu Maphosa, Corning
ALL-ROOKIE TEAM
Savie Waters, ND
Chris Woodward, Elmira
Blake Cobb, Edison
Justice Chimics, Troy
Josh Stanton, NEB
Gavin Fisher, Tioga
Danny Pirger, Newark Valley
Zeb Soper, Candor
John Larter, Owego
Noah Shedden, NPL