NEW YORK STATE GIRLS BASKETBALL: NEWARK VALLEY FALLS SHORT IN CLASS C TITLE GAME
(2022-03-20)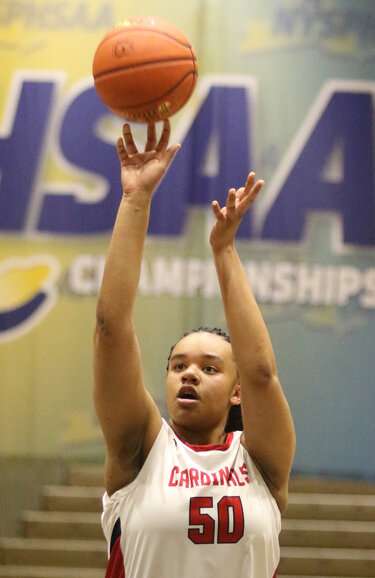 By TIM TAYLOR
Tioga County Sports Report
TROY, N.Y. — Newark Valley ran into an opponent that was every bit its equal in the NYSPHSAA Class C girls basketball championship game at Hudson Valley Community College here Sunday.
In the end, the Blazers' offense was slightly better and their defense a little more stubborn, giving the Section IX champions a 55-46 victory.
"We shot poorly. Credit them," NV coach Greg Schweiger said. "Their length bothered us. We couldn't get easy looks inside and they defended the perimeter well because they knew they had a big girl protecting them, very similar to us, in that sense in a way.
"We just didn't handle it. We didn't make the extra pass and get shots. We had some balanced scoring, but it was lower than normal and I think our shooting percentage was lower. On top of that, we didn't get anything out of the press. We couldn't turn them over like I thought maybe we would, so that was another difference in the game."
The Cardinals fell behind early, 11-6, but surged to a 13-11 edge at the end of the first quarter behind an 8-point run which included a basket from Jasmine Graham and back-to-back 3-pointers by Hannah Ferguson and Graham.
Grace Gardner converted a traditional 3-point play 11 seconds into the second period to stretch the lead to 16-11, but that's where it would stop.
Natalie Fox nailed two free throws, then Beth Bosan followed with a three-ball and a pair of foul shots to put the lead back in Millbrook's favor, 18-16.
Cha Gardner evened the score at 18 as the clock dipped under the 5-minute mark.
Unfortunately for the Cardinals, Fox accounted for six points, Emily Grassler added four and Maddy Harkenrider nailed a three as the Blazers went up 33-28 at the break.
Meanwhile, Grace Gardner responded with a pair of free throws and a trey, then Taylor Benjamin added two foul shots and a three in the final 33 seconds of the half to keep Millbrook within reach.
Fox made it 35-28 early in the third quarter, but free throws by Grace Gardner and a baseline three from Ferguson trimmed the margin to 35-33.
Grassler drained a trey and Cha Gardner came back with a basket to make it 38-35 midway through the period, but Bosan highlighted a 7-point run to end the quarter and send the Blazers into the final frame with a 45-35 cushion.
NV held Millbrook to one field goal in the fourth, but sent the Blazers to the charity stripe five times in the final 66 seconds. Grassler, Ella Wilson and Fox combined to go 8-for-10 to seal the deal.
"They made a lot of foul shots and we were only about 50 percent. You can't do that in a championship game, but you know, the girls fought hard.
Fox finished with a game-high 15 points to go with nine rebounds and four blocks. Newark Valley did a good job keeping her off the scoreboard in the second half, allowing her just two points.
Grassler and Bosan scored 10 and seven points, respectively, after the break to pick up the slack. Grassler also had eight boards and two blocks.
Ella Wilson added nine points, seven rebounds and three assists.
For NV, Grace Gardner had 13 points, eight rebounds and two assists; Benjamin contributed 10 points, three boards and two assists; and Ferguson added eight points, five boards, two steals and one assist.
Cha Gardner chipped in with six points, 11 rebounds, two blocks, two steals and one assist; Graham had five points; Hayley Beebe scored two points, dished out three assists and grabbed two rebounds; and Walker tacked on two points and three rebounds.
"I think after the emotional win yesterday, we didn't come with a snap," Schweiger said. "Maybe we should have, or needed to, but credit Millbrook. They were a solid team."
"The other day, like I told the kids in the locker room, they have nothing to be ashamed of. They should be super proud of all they've accomplished this season just getting here. A very special group.
Both teams finished the season with a 24-2 records. Coming into the tournament, both teams' losses were to Class AA or Class A opponents. Millbrook has three seniors on its 9-player roster. Five of NV's 14-member playoff roster played their final high school game.
So how do you bid farewell to a group like Taylor Benjamin, Hannah Ferguson, Grace Gardner, Anna Kaelin and Rachael Walker?
"The first thing you'd say is 'thank you.' Thank you for all the time and trust and energy they put into the basketball program," Schweiger said. "To me, I can't thank them enough. They've set a standard that will be the standard until I'm long gone, I'm sure. It would be very hard for another group to match what this group did, especially those seniors leading the way.
"I also say to them, all the things that they've displayed to get here means to me I know they're going to be super successful in life because of the dedication, the hard work and passion they put into basketball. They direct them into life, they're going to be successful at anything."
NOTE:
Millbrook was the 2018 state champion. In 2019, the Blazers fell to eventual runner-up Watkins Glen in the semifinals. New York did not hold. They were favored to win the state title in 2020 when NYSPHSAA canceled the tournament during regional play due to COVID-19. NYSPHSAA canceled the 2021 tournament due to COVID as well.
——————
IN PHOTO 1: NV's Grace Gardner … PHOTOS BY TIM TAYLOR.