SECTION IV WRESTLING: NEWARK VALLEY FALLS TO OXFORD / GREENE AT DIVISION II DUALS
(2022-01-19)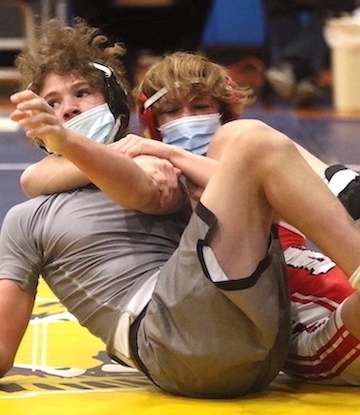 By TIM TAYLOR
Tioga County Sports Report
TIOGA CENTER — Newark Valley put forth a few strong showings at the Section IV Division II Dual Meet Wrestling Championships here Wednesday, but ultimately came up short in a 45-30 loss to Oxford / Greene.
The Cardinals' three seniors were victorious, as were 8th-grader Logan Woodin and sophomore Seth Northrup.
Newark Valley coach Mike Daly said lack of experience contributed in part to the loss, but noted some of his wrestlers need to pick up a little bit of grit.
"When that guy fights off his back and then you don't fight off yours, you've got to question who has more grit, and then we had some kids step up, and that's not a knock.
"Some of our young kids have got to realize what it means to do a six-minute match, what it means to be in a tight match and that your body's going to tire, but your mind is going to be much more tired than your body, and some of them don't get that yet. They think that as soon as they start breathing heavy, it's panic time, and then we get in a little bit of panic mode with some of them, and it has to do with experience. Some kids have had tough matches from the time they were five and some are just starting that six-minute stuff. That part's good.
"We moved our little, tiny Woodin kid up to 120, knowing we needed a win down there, and he did his job and did a great job. You know, some other kids stepped in and, it wasn't our day."
Northrup opened the match with a fall over Jared Milk at 285 pounds. Following scoreless first period, Northrup grabbed a 1-0 lead in the second period with an escape, then went ahead, 2-0, on a penalty point and 3-0 with a takedown. Moments later, he would turn Milk for the pin in 3:11.
The Blackhawks' Troy Braman (102) decisioned Trevor Middendorf, 6-0, and Owen Marcin (110) received a forfeit to give O/G a 9-6 lead.
Woodin would move up a weight to 118 and decked Chris Callahan in 3:12 after scoring takedowns in the first and second periods. That put NV back on top, 12-9.
Oxford would follow with a pair of pins, by Aidan Marcin (126) in 1:15 over Cadin Creeley and by Corey Swift (132) over Dylan Iversen in 1:37. That gave the Blackhawks a 21-12 lead.
The Cardinals responded with back-to-back falls to go back ahead, 24-21. Mark Vosburgh (138) decked Sebastian Quarella in 24 seconds, then Noah Waterman (145) scored a pair of takedowns before dispatching Christian Paden in 1:59.
Oxford won the next four weights to seal up the win. Mike Wright (152) pinned Connor VanZile in 3:30, Lyric Libbey (160) scored a 44-second fall over John Turnbull and Hunter Page (172) pinned Bryce Dunn in 1:21. Tyler Brown received a forfeit to make it 45-24.
Nate Demmer received a forfeit at 215 to give NV its final six points.
Oxford / Greene, seeded fourth, would fall to top seed and eventual champion Tioga, 60-9, in the semifinals. NV came in the tournament as the fifth seed.
Next up is the IAC championship tournament at Waverly Saturday.
——————
IN PHOTO 1: NV's Logan Woodin (R). ... PHOTOS BY TIM TAYLOR.