IAC GIRLS BASKETBALL: NEWARK VALLEY RIDES 18-POINT RUN TO WIN OVER WAVERLY
(2022-01-19)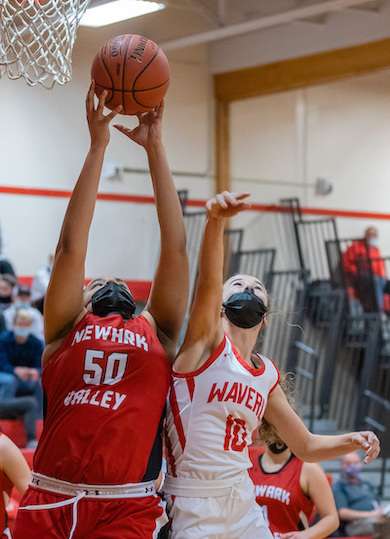 By TIM TAYLOR
Tioga County Sports Report
WAVERLY — A six-minute scoring drought robbed Waverly of the momentum it needed to pull off a major upset as the Wolverines dropped a 54-41 IAC South Large School clash with Newark Valley here Wednesday evening.
"I'm proud of this one because we had to grind it," NV coach Greg Schweiger said. "We didn't get a lot of easy baskets. We didn't score like 20 points in transition off of steals. We had to earn every basket, and I told the guys in the locker room, that's what's going to make us ready for the next level of what we want to try to accomplish next, so a very good win to get here."
Waverly led the state's top-ranked Class C team, 15-7, early in the second quarter, but the Cardinals erupted for an 18-0 run to take control.
Peyton Shaw's basket late in the period would end the Wolverines' drought as they headed into halftime trailing, 25-17.
NV looked flat early, partially due to the winter storm that created a three-day practice vacancy, but also the Wolverines' intensity.
"Not a ton of practice time, but I just feel like that happens a lot to us down here, quite frankly, and so you've got to overcome that and that's a great thing," Schweiger said. "You've got to come down and you've got to win on the road, and overcome a slow start. We typically start hot, we start fast, so I knew we were due for a game that things didn't always go right for us in the beginning, so I thought the surge in the second quarter was huge.
Newark Valley's Taylor Benjamin would knock down a 3-pointer 30 seconds into the second half to keep the NV momentum going.
"We really almost had the score where it was last time we played them," Schweiger said. "We were up by seven, at home we were up by 10 and same scenario played out. We've got to go take care of the third quarter, and I thought we did. We certainly didn't make it a big margin, a big spread, but it was a little more comfortable. We played with poise, took care of the ball in the end when we needed to. It was a really good team win for sure.
"I thought we utilized our bigs a little better tonight, Grace and Cha. Cha had a nice night. Grace did her thing. Hannah and Taylor give us that balance, and Hayley. We don't win this game against a team like Waverly without somebody like Hayley that can handle the ball, break their press all by herself, so that's huge for us too.
Cha and Gracie Gardner combined for eight points to give the Cardinals a 36-22 cushion with 3 1/2 minutes remaining in the third quarter, but the Wolverines refused to go away.
Kennedy Westbrook drained a trey and added a basket, a Lourden Benjamin scored a bucket, and Olivia Nittinger added a free throw during an 8-2 burst to close out the period.
The two teams swapped scoring opportunities early the final stanza with Paige Robinson sinking a pair of free throws and Nittinger adding a three-ball for Waverly, and Rachael Walker and Hannah Ferguson contributing buckets for NV, making it a 42-35 contest with 5:32 remaining.
A Hayley Beebe-to-Cha Gardner-to-Ferguson transition 11 seconds later sparked a 7-0 run which included a traditional 3-point play by Ferguson and a pair of free throws from Beebe, pushing the Newark Valley advantage to 49-35 with 4:04 on the clock.
Taylor fouled out with 3:212 to go, but Addison Westbrook drew her fifth foul at 3:03 and Kennedy Westbrook following her to the bench at 2:55.
The Cardinals sank six of seven foul shots in the final 4:18 to help their own cause.
The Wolverines clearly had upset on their minds at the game's onset, despite not scoring for nearly 4 1/2 minutes.
Down, 7-3, with Kennedy Westbrook's three being the team's only points, Waverly surged to a 10-7 lead at the end of the first quarter behind a trey from Nittinger, a basket by Addison Westbrook and a bucket from Kennedy Westbrook.
Kennedy Westbrook knocked down a trey 26 seconds into the second period and Benjamin added a basket at 6:28 — the team's final points until Shaw's basket with 17 seconds left in the half.
NV was able to make the adjustments it needed to in order toswing the momentum.
"I think, just turning up the intensity on the other end and I think what helps, and what I'm learning more about playing Waverly is don't press them. Make them play in the half court. I think we tried to slow the game down a little bit and force them to execute in the half court. They want to speed the game up. We wanted to slow the game down, so it was whoever was going to win that battle. I think that improved our half-court D when we're overextending ourself on the press. Real proud of them and on to the next.
"This was certainly one of those games circled on your calendar when you get the schedule that you know is going to be a battle and you know you've got to win if you want to accomplish some things down the road."
Ferguson, who canned four threes in the first half, led all scorers with 19 points. Cha Gardner scored 15 and Benjamin added 10.
Kennedy Westbrook paced the Waverly effort with 15 points. Nittinger tacked on nine while Shaw and Benjamin added seven and six, respectively.
Newark Valley travels to Trumansburg Friday.
——————
IN PHOTO 1: NV's Gracie Gardner (L) and Waverly's Kennedy Westbrook. ... PHOTOS COURTESY OF DAVID ALLIGER — TRAVELING PORTRAITS PHOTOGRAPHY.