ON TAP TODAY: SECTION IV WRESTLING DUAL MEET TOURNEY STEALS SPOTLIGHT
(2022-10-19)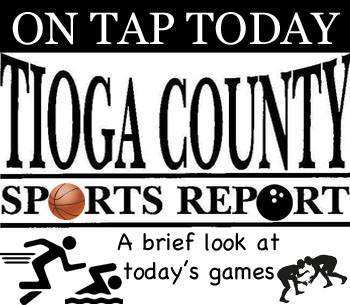 Tioga County Sports Report
TIOGA COUNTY — The Section IV Division II Dual Meet Wrestling Championships steal the spotlight with three of the six teams competing coming from Tioga County.
BOYS BASKETBALL
Waverly (8-3, 6-1 IAC South Large School) at Newark Valley (2-8, 1-7 IAC South Large School), 7:30 p.m.:
The Cardinals are coming off a loss to Whitney Point while the Wolverines turned away S-VE. Waverly won their previous meeting 13 days ago. Tonight's game was postponed from Tuesday.
GIRLS BASKETBALL
Newark Valley (11-1) at Waverly (7-3), 7:30 p.m.:
The Cardinals, ranked No. 1 in the state in Class C, has won 10 consecutive games, including a 72-52 win over the Wolverines.
Owego (3-8) at Susquehanna Valley (3-5), 7:15 p.m.:
The Indians have played several games with multiple players missing, including two starters. Sus Valley won their previous meeting, 41-37.
WRESTLING
Newark Valley at Section IV Duals, 4:30 p.m.:
Defending champion Tioga hosts this year's event. The Cardinals come in as the fifth seed and face No. 4 Greene / Oxford while sixth-seeded Waverly meets third-seeded Windsor.
The Newark Valley-Greene / Oxford winner gets second-seeded Walton / Delhi and the Waverly-Windsor winner faces Tioga in the semifinals, scheduled to begin at 6 p.m.
The championship match is slated for 7:30 p.m.
Dryden at SVEC, 5:30 p.m.:
Both teams are seeking their first dual meet victory of the season.