ON TAP TODAY: VARIETY OF EVENTS HIGHLIGHT RELATIVELY LIGHT DAY
(2022-01-15)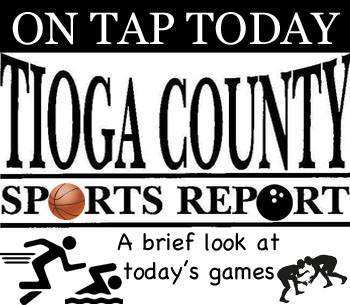 Tioga County Sports Report
TIOGA COUNTY — It's a relatively light day with two basketball games, a track meet and a wrestling tournament on the schedule.
BOYS BASKETBALL
Owego (4-7, 3-2 STAC B) at Oneonta (4-4, 3-3 STAC B) 11:40 a.m.:
The Indians are coming off a loss to Corning while the Yellowjackets dropped their last outing to Chenango Forks.
Waverly at S-VE, 3:30 p.m.:
The Panthers are coming off an overtime loss to Groton while the Wolverines thumped Lansing.
INDOOR TRACK & FIELD
Owego at Section IV Classic, 2 p.m.:
The Indians head to SUNY Cortland to compete against 13 other Section IV teams.
WRESTLING
Newark Valley, Owego at Hornell, 9 a.m.:
The Cardinals and Indians travel to Section V for the State Farm tournament.