IAC BOYS BASKETBALL: MIDDLE QUARTER SLUMP MAKES A DIFFERENCE IN NEWARK VALLEY SETBACK
(2022-01-14)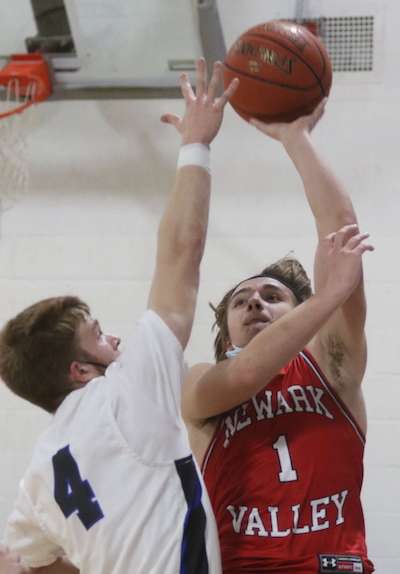 Tioga County Sports Report
WHITNEY POINT — A slump in the second and third quarters proved to be the difference as Newark Valley fell to Whitney Point, 57-46, in an IAC boys basketball crossover game here Friday.
The Cardinals held a 12-11 lead heading into the second period, but the Golden Eagles rode a 15-9 surge to a 26-21 advantage at the half.
NV put up another dozen points in the third quarter, nut the Point chalked up 18 to make it a 44-33 ball game.
"We had a few communication breakdowns late in the game that kept us from cutting their lead to a more manageable number," NV coach Scott Stratton said.
The Cardinals dealt with ups and downs throughout the contest.
"Our man-to-man defense was quite good, as it has been all year, but we didn't finish possessions by rebounding the basketball, and second chance opportunities really hurt us," Stratton said.
Danny Pirger provided balanced scoring six of his game-high 22 points in each of the final three periods. It was his season high in points.
"Dan (Pirger) has really worked hard this season to improve his ability to knock down shots and finish at the hoop, and he did an excellent job putting the ball in the basket tonight," Stratton said.
Jules Etienne and Landon Spoonhower contributed nine and eight points, respectively. Ryan Chandler scored three while Noah Martin and Troy Middendorf added two apiece.
"Despite the loss, we stepped forward in several ways as a team tonight," Stratton said. "Most of all it was another learning experience on our path to understanding the game better, and learning how to handle the mental and emotional sides of a close game."
Owen STandish-Warpus led the eagles with 15 points and Holden Maslin added 14.
Newark Valley hosts Waverly Tuesday.
——————
IN PHOTO: NV's Danny Pirger. ... TCSR STOCK PHOTO.