STAC WRESTLING: OWEGO TURNS AWAY SUSQUEHANNA VALLEY FOR FIRST WIN
(2022-01-13)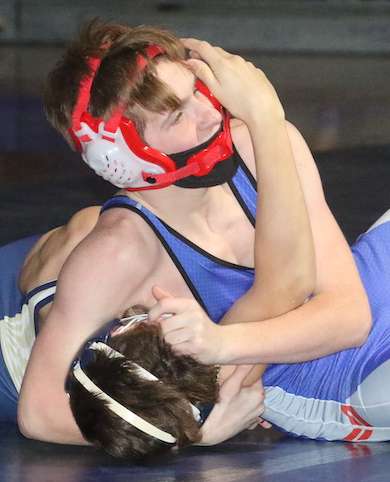 By TIM TAYLOR
Tioga County Sports Report
OWEGO — The bout draw worked — excitingly — in Owego's favor as the Indians picked up their first dual meet victory of the season here Thursday.
With the Indians leading Susquehanna Valley by six points and a potential 12 points still to be had, Gairit Hodson and Jozsiah Varga-Flynn picked up back-to-back falls to give Owego a 48-30 STAC wrestling triumph.
"First win of the season, it feels good," Owego coach Nick Rodgers said.
When he stepped on the mat, Hodson could clinch the elusive win with a pin — and he wasted no time, taking Zack Fedorwich down for a 27-second fall in the 138-pound bout.
Varga-Flynn gave up a penalty point for an equipment violation before his 138-pound tilt with Adam Leonard even started. Leonard would go up, 2-0, with an escape early in the second period, but Varga-Flynn turned the tables with a takedown and near fall to make it 5-2 in his favor. Moments later, he put Leonard to his back for the fall at 3:47, making it a 48-30 final.
"Garrett and Josiah, they're upperclassmen," Rodgers said. "They've been around a while. That's what we expect of our upperclassmen.
"That's why I wasn't too upset," he added of the close score near the end. "I knew we were starting at 52. Coming down to those two we could be in good shape."
Owego grabbed a big advantage early the dual meet with a fall and four forfeits. Caleb Hoover would start out with a forfeit at 152. Bobby Struble (160) scored a takedown and near fall for a 5-0 first-period lead before decking Jarrett Pritcher in 3:10.
The Indians received forfeits at the next three weights with Merrick Birchard (172), Matt Gatto (189) and Trevor Decker (215) raising their hands to give Owego a 30-0 lead.
Sus Valley recorded its first victory of the night with Damein Zutkowski's forfeit at 285, but Owego got the points back on a forfeit to Collin Monell (102) to make it 36-6.
That's when the Sabers turned it into a battle.
Taking advantage of a slight edge in experience, SV notched three straight falls. Carl Harold (110) pinned Jonathon Gilliland in 2:18, Tim Boyce (118) dispatched RaeAnn Craft in 3:53 and Mark Moelder (126) pinned Colin Brink in 3:19. Matt Boyce (132) followed with a forfeit, cutting the gap to 36-30 and setting the stage for the thrilling finish.
"I think a few of those lighter weights, we could have wrestled a little bit better, but overall I think we keep getting better," Rodgers said. "Every match we're getting a little bit better, so that's all we can ask for."
Next up for Owego is the State Farm tournament Saturday at Hornell.
——————
Owego 48, Susquehanna Valley 30
152: Caleb Hoover (O) by forfeit
160: Bobby Struble (O) pinned Jarrett Pritcher, 3:10
172: Merrick Birchard (O) by forfeit
189: Matt Gatto (O) by forfeit
215: Trevor Decker (O) by forfeit
285: Damein Zutkowski (SV) by forfeit
102: Collin Monell (O) by forfeit
110: Carl Harold (SV) pinned Jonathon Gilliland, 2:18
118: Tim Boyce (SV) pinned RaeAnn Craft, 3:53
126: Mark Moelder (SV) pinned Colin Brink, 3:19
132: Matt Boyce (SV) by forfeit
138: Gairit Hodson (O) pinned Zack Fedorwich, :27
145: Jozsiah (O) pinned Adam Leonard, 3:47
——————
STAN ELINSKY MEMORIAL TOURNAMENT
The Indians placed seventh in a 15-team field at the annual tournament honoring the memory of Deposit's long-time coach.
Hodson placed fourth at 138. Monell (102), Gilliland (110) and Gatto (172) finished fifth, and Varga-Flynn (138) was sixth.
Owego scored 198.5 points, just one-half point out of sixth. Lackawanna Trail, Pennsylvania won the team title with 308 points, edging out Maine-Endwell by one-half point. Another Tioga County team, Newark Valley, was ninth with 166 points.
——————
IN PHOTO 1: Owego's Colin Brink. ... PHOTOS BY TIM TAYLOR. (Photos 12-16 are Owego youth wrestlers)