STAC BOWLING: OWEGO SPLITS WITH SUS VALLEY
(2022-01-12)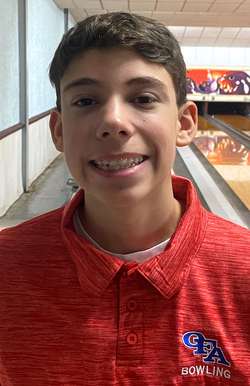 Tioga County Sports Report
OWEGO — Three bowlers posted 600-plus series as the Owego boys swept Susquehanna Valley, 5-0, at Owego Bowl Wednesday.
The lady Indians dropped their match, 5-0.
BOYS
Owego 5, Susquehanna Valley 0
Evan O'Hara led the way with a 649 series as he rolled games of 220, 215 and 214.
William Waldron posted the team's high game with a 248. His 613 series also included a 215.
Cole Dalton rolled a 222 and a 200 on the way to a 611 series.
Connor Kotski contributed a 214-578 and Tyler Taft had a 227-552.
The Indians won by scores of 1060-882, 1031-1016 and 912-774, giving them the total pinfall, 3003-2672.
James Pittsley led Sus Valley with a 211-601.
GIRLS
Susquehanna Valley 5, Owego 0
The Sabers won by scores of 683-522, 718-482 and 733-488, and took the total pinfall, 2134-1492.
Haley Stephens led Owego with a 172-456, Elizabeth Reigle had a 119-333, Rylee Hooker added a 246 series and Aubrey garrison tacked on a 220 series.
JV BOYS
Owego 5, Susquehanna Valley 0
The Indians won, 576-468, 611-439 and 636-545, and won the total pinfall, 1823-1452.
Devan Card led Owego with a 133-379, Dominick Curley added a 142-362, Cavan Tapia recorded a 132-358 and Peyton Miller had a 133-353.
Grayden Stanton rolled a 170 in his only game. Aaron Klett added a 111.
——————
IN PHOTO: Owego's Evan O'Hara.