IAC WRESTLING: NEWARK VALLEY SPLITS WITH TIOGA, DRYDEN
(2022-01-12)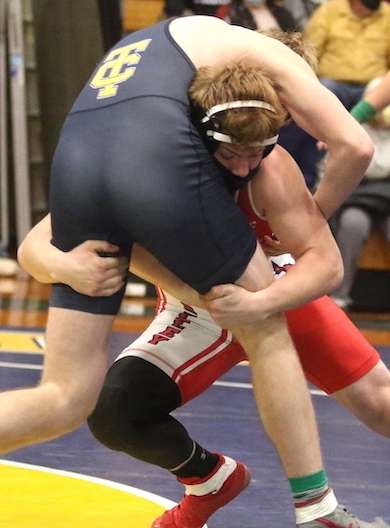 By TIM TAYLOR
Tioga County Sports Report
TIOGA CENTER — Newark Valley came into Wednesday's IAC Division I wrestling triangular with Tioga and Dryden sitting in first place. The Cardinals were well aware of the challenge the state's top-ranked Division II team presented, but also realized their youthful team could get past Dryden with some solid performances.
As it turned out, the Tigers dropped just two bouts as they defeated Dryden, 71-6, and NV, 66-6, to take control of the division. Meanwhile, the Cardinals defeated the Purple Lions, 48-30, to pick up a split.
Both Dryden and NV have youthful rosters this season. Thirteen of Dryden's 21 wrestlers are underclassmen or junior high-aged while Newark Valley has 22 underclassmen or junior high-aged members on its 28-man roster. Tioga has some youth as well (17 of its 29 grapplers are underclassmen or junior high-aged), but is much deeper experience-wise.
Tioga coach Kris Harrington credited both opposing coaches for the progress they're making.
"They're emerging programs right now," Harrington said. "They both had pretty full line-ups and we're a tough out right now
"I think that coach (Mike) Daly and coach (Bobby) Brotherton are doing a good job developing their programs. Right now, we're just a little bit better than those guys."
Peter Basti was NV's lone double winner. He decked the Purple Lions' Hunter Covington in 39 seconds and dispatched Tioga's Thomas Hurd in 1:11 at 189 pounds.
"We wrestled Dryden as we expected and then Tioga's has just been an amazing program," Newark Valley coach Mike Daly said.
Against the Lions, NV grabbed the early advantage and never trailed. Dylan Iversen (132) pinned Dean Belden in 59 seconds and Vosburgh (138) won by forfeit.
Connor VanZile (152) sandwiched a first-period pin of Paul Best Jr. between two Dryden falls, then the Cardinals won three straight. Basti notched a fall, Bryce Dunn (189) won by forfeit and Nate Demmer (215) pinned Aaron Thompson in 32 seconds.
Dryden would win three of the next four bouts with NV's Trevor Middendorf getting a forfeit at 102. Cadin Creeley (126) pinned Sam LaMorte in 16 seconds.
Daly was looking for some better showings against the Tigers.
"The kids have to understand that a loss isn't always a bad thing, but you have to have some pride when you're out there to do the right things," he said. "The longer you're on the mat with a kid or a team like that, but the closer you can get to getting to that level. If you're giving up early, then you're not getting there. We had some battles and then we struggled with six minutes. ... We have to keep working to try and get our kids to that level."
Mark Vosburgh was one of the Cardinals facing a state-ranked opponent when Mason Welch, who is ranked fourth in the state at 126, moved up to 132. Welch hit an early 5-point move then added another near fall for an 8-1 lead. Vosburgh cut the gap to 9-5 in the second period, but Welch took advantage of a Vosburgh mistake to get the fall with 25 seconds left in the bout.
The Tigers have seven state-ranked grapplers this season. In addition to Welch, there is No. 1 Gianni Silvestri (118), third-ranked Caden Bellis (132), Donavan Smith (145) and Emmett Wood (152), fourth-ranked Ousmane Duncanson (160) and No. 8 Deakon Bailey (110).
With the split, Newark Valley is 4-1 in the division and 7-4 overall. Tioga improves to 3-0 in the division and 9-0 overall while Dryden dips to 0-3 in the division and 0-10 overall.
——————
NEWARK VALLEY 48, DRYDEN 30
132: Dylan Iversen (NV) pinned Dean Belden, :59
138: Mark Vosburgh (NV) by forfeit
145: Joshua Rowland (Dryden) pinned Noah Waterman, 1:47
152: Connor VanZile (NV) pinned Paul Best Jr., 1:53
160: Christopher Combs (Dryden) pinned John Turnbull, :17
172: Peter Basti (NV) pinned Hunter Covington, :39
189: Bryce Dunn (NV) by forfeit
215: Nate Demmer (NV) pinned Aaron Thompson, :32
285: Kaydin Hinckley (Dryden) pinned Seth Northrup, :18
102: Trevor Middendorf (NV) by forfeit
110: Oscar Brotherton (Dryden) pinned Logan Woodin, 2:26 118: Travis Chamberlain (Dryden) by forfeit
126: Cadin Creeley (NV) pinned Sam LaMorte, :16
Extra matches
160: Kaiden Pado (NV) pinned Nicholas Bieber, 3:10
TIOGA 66, NEWARK VALLEY 6
138: Caden Bellis (Tioga) pinned Noah Waterman, 1:27
145: Donavan Smith (Tioga) pinned Connor VanZile, :34
152: Ousmane Duncanson (Tioga) pinned John Turnbull, 1:03
160: Emmett Wood (Tioga) pinned Gabe Merrill, :14
172: Trent Browne (Tioga) pinned Bryce Dunn, :56
189: Peter Basti (NV) pinned Thomas Hurd, 1:11
215: Josh Snell (Tioga) dec. Nate Demmer, 6-4
285: Tate McCauley (Tioga) dec. Seth Northrup, 4-0
102: Logan Bellis (Tioga) pinned Logan Woodin, 1:29
110: Deakon Bailey (Tioga) by forfeit
118: Jayden Duncanson (Tioga) by forfeit
126: Gianni Silvestri (Tioga) pinned Cadin Creeley, 1:08
132: Mason Welch (Tioga) pinned Mark Vosburgh, 5:34
Extra matches
102: Kaydin Cole (Tioga) dec. Trevor Middendorf, 11-5
——————
IN PHOTO 1: NV's Peter Basti. ... PHOTOS BY TIM TAYLOR.