STAC GIRLS BASKETBALL: SHORT-HANDED OWEGO FALLS TO WINDSOR
(2022-01-11)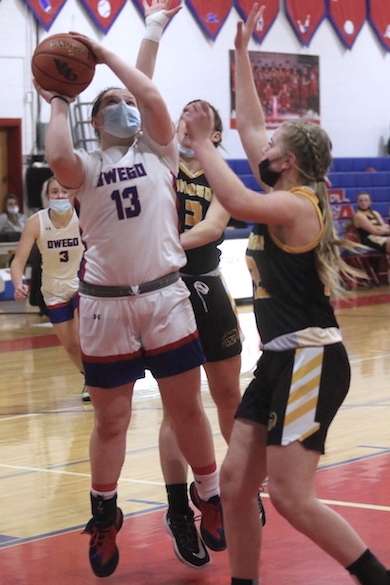 By TIM TAYLOR
Tioga County Sports Report
OWEGO — Owego struggled to out points on the scoreboard in the second quarter in a 53-37 STAC girls basketball loss here Tuesday.
Down three players, including a pair of starters, the Indians battled the Black Knights in the first period. Unfortunately for Owego, it was only able to manage one Ava Brown field goal in the second, slipping behind, 35-19, at halftime.
"We've only had six or seven girls at practices and games over the past month and that's definitely affected how we've prepared for games and how we've played in games for sure," Owego coach Luke McEvoy said.
Missing from Tuesday's line-up were seniors Maggi Huizinga and Maggie McCann, and sophomore Taylor Dalton.
Windsor only trailed 17-16 after the first eight minutes, thanks to some precision shooting from long range and the free throw line — and used those tools in the second quarter as well.
"In the first quarter, initially we dug a little bit of a hole," coach McEvoy said. "They made a couple shots quick, and then we fought right back and I thought, okay, now we're starting to click on some things that I thought we had built upon, and then the second quarter, we just talked about it after the game too, that quicksand effect of we missed shots, we had turnovers and those things kind of just build one after the next.
"Give them credit. They made shots. I think they had six threes in the first half, which allowed them to expand that lead at halftime and build some confi dence moving forward."
The Knights would end up knocking down eight threes on the night and going 11-for-12 at the charity stripe.
"They're free throws, right? You go there and you're supposed to knock them down, and when teams do, yeah, that and I think the 3-point shot was definitely a difference in the game tonight," coach McEvoy said.
The second half started out in Owego's favor as Madison McEvoy struck for the first basket, but Windsor scored the next six to build a 41-21 cushion at 3:07 of the third quarter.
Following a Sarah Terry free throw, the Knights' Sydney Angelo drained the second of her three 3-pointers to double up Owego at 44-22.
The Indians closed out the quarter with a 5-point run as Georganna Hankey hit a foul shot, Terry followed with a bucket and Maddie Bennett foundLauren Gilbert in the paint.
Angelo sank her final long-range basket early in the final frame, pushing thew Windsor lead back to 20 at 47-27.
Madison McEvoy surrounded a Windsor bucket with two of her own to make it a 49-31 game, then Bennett hit a trey and a basket 42 seconds apart to close the gap to 51-36 with 2:08 to play, but the Indians could get no closer.
"I was pleased with our effort in the second half, even though we didn't make some shots and we didn't make the runs that we wanted to make, but we came out, we played a little bit harder, which is all I all I can ask for," coach McEvoy said.
Madison McEvoy led the Indians with 13 points, including a three, and Bennett scored 10 points, nailing two treys in the process. Gilbert and Terry added five points each, Brown had three and Hankey tacked on one.
Angelo, Claire Beattie and Ella Peterson shared scoring honors for the Knights with 12 points apiece. Angelo and Peterson registered three treys apiece, and had two.
Owego (3-7) hosts Oneonta Friday.
——————
IN PHOTO 1: Owego's Sarah Terry. ... PHOTOS BY TIM TAYLOR. (Photos 18-24 are the Owego 5th- and 6th-grade girls travel team)