STAC BOYS BASKETBALL: DEFENSE, FREE THROWS FACTOR INTO OWEGO SETBACK
(2022-01-10)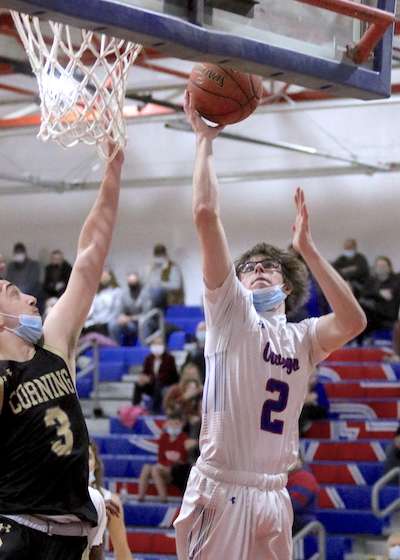 By TIM TAYLOR
Tioga County Sports Report
OWEGO — Solid defense and clutch free throw shooting factored into Owego's 56-46 STAC boys basketball loss to Corning here Monday evening.
The Hawks' Isaiah Henderson hit four foul shots in the final minute of the first half to give the visitors a 10-point lead at the break, then made five of six attempts in the game's final 3 1/2 minutes after the Indians trimmed the gap to six.
"That gave us some momentum I thought," Corning coach Mike Johnston Jr. said of a foul and technical foul against Owego which allowed Henderson to step to the charity stripe with 48 seconds remaining in the second quarter to give the Hawks a 25-15 lead. They would lead, 27-17, at halftime.
"The free throws were huge for us," Johnston added. "We ended up shooting 16-for-22, for 73 percent on the road. That's pretty darn good."
"Henderson had some big, big shots for us and he was 12-for-14 at the line, which is huge, and down the stretch.
Corning would extend its advantage to 37-22 — the Hawks' biggest lead of the game — following back-to-back baskets by Aiden Chamberlin heading into the final minute of the third period.
Owego, known for its defensive prowess, wasn't about to let the visitors run away with the game, regardless of the fact it was a state-ranked Class AA team playing a Class B opponent.
A traditional 3-point play by John Bangel, followed by two baskets from Brad Palmer, chopped the lead down to 45-39, but a Henderson 3-pointer with 2:20 left in the contest made it a 9-point margin at 48-39.
The Indians never got closer than seven after that as Jackson Casey's feed to Landen Burch, three free throws by Henderson and two foul shots by Casey offset a bucket by Bangel and five points from Palmer down the stretch.
Corning scored the game's first six points, but the Indians chipped away at the early deficit, eventually knotting the score at nine with 53 ticks on the first-quarter clock.
Owego tied the game again at 11, then again at 13, but consecutive baskets from Henderson put the Hawks ahead for good.
The Corning defensive effort was key to holding the lead.
"It was like I was saying to my kids, we don't have a lot of fans down here tonight, Monday night, cold, the whole deal, and, I loved the energy that our kids had on the bench, and gave us on the defensive end," Johnston said.
"They've got two big kids to reckon with and I thought they shot it very well tonight, and you hold a team like that to 46, you've got to be pleased with what you did on the defensive end.
"Again, our guys off the bench, I thought Logan Booker and Nick Garner gives great minutes and, collectively, all-around great team effort on the road. We did a really good job competing because winning's hard, but to do it on the road."
Henderson led all scorers with 26 points — never scoring a point for the first 12 minutes —and contributed six rebounds. Chamberlin chipped in with 14 points, four coming off his two steals, and handed out two assists.
Casey pitched in with six points, dished out seven assist, and also tacked on four rebounds, three steals and one blocked shot. Burch recorded five points and seven rebounds while Nesu Maphosa had three points, four boards and two steals, and Garner tacked on a basket.
Palmer had a 17-point effort for the Indians, who slipped to 4-7. John Bangel added nine, Ethan Nichols had eight, Ryan Pryor and Joe Bangel registered four points apiece, and John Larter and Drew Tavelli had two points each.
Johnston has been pleased with the 20th-ranked Hawks' 8-0 start, but is ready to focus on to the next opponent.
"The majority of our schedule has been road games out of the first eight," he said. "We've just got to keep plugging along. Tomorrow we, turn the page and get ready for Elmira on Wednesday at our place."
Owego, which was without quarantined head coach Chris Evans, travels to Oneonta Saturday.
——————
IN PHOTO 1: Owego's Brad Palmer. ... PHOTOS BY TIM TAYLOR.