STAC BOYS SWIMMING & DIVING: TRIPLE WINNER SNYDER LEADS OWEGO EFFORT
(2022-01-09)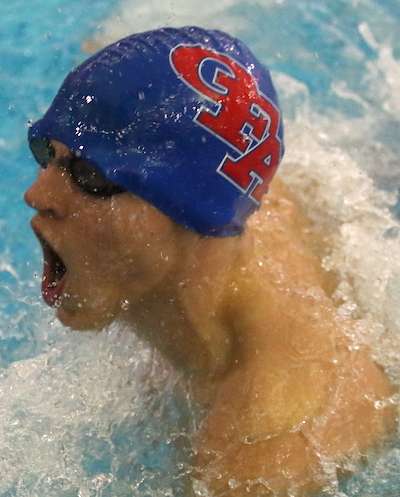 By TIM TAYLOR
Tioga County Sports Report
OWEGO — Gabe Snyder won three events to lead the Owego effort in a 90-64 STAC boys swimming and diving loss to Windsor here Friday.
The junior won the 50-yard freestyle with a time of 25.18 seconds and the 100 free in 56.27 seconds. He also teamed with Adam Gault, Tyler Krom and Christian Hodges to win the 400 free relay, clocking 3:56.49.
The Indians posted two other individual victories as Magavin Allen captured the 100 backstroke (1:10.74) and Hunter Georgia took the 100 breaststroke (1:23.1).
Individual runners-up for Owego were Gault in the 200 free (2:05.2) and 100 butterfly (1:04.88); Allen in the 200 individual medley (2:33.4); Hodges in the 500 free (5:56.51) and Krom in the 500 back.
Allen, Hodges, Krom and Snyder grouped together to take second in the 200 free relay (1:48.55).
Hodges also contributed a third-place showing in the 200 free (2:12.69).
In it's next meet, Owego (0-4) hosts an opponent with a similar-sized roster, but is also more experienced with six seniors to the Indians' one.
At Friday's meet, Owego had seven swimmers competing, one-quarter the size of Windsor's roster. While the Indians may pick up a few event victories here and there, coming out on top in the team scoring is much more difficult. That factor alone can make motivation a real challenge.
"It's very tough because we have some good swimmers on our team," said Gault, the Indians' lone senior. "We can win events, but we just don't have the depth to win meets."
Encouraging each other and the desire to get better are motivational factors.
"We're always on the side of the pool. We're always at the end of the lane. We're just trying to get PRs. We're trying to win events," Gault said. "Even if we can't win meets, we're trying to better our times."
The thrill of competition and team unity are contributing factors as well.
"Well, they just like competing," coach Kyle Lounsberry said. "They all work really well together, so they come to practice and they're engaged with each other. They compete against each other and I think that's what keeps them going."
The swimmers are getting better, but with limited numbers, they don't always get to swim their specialities.
"Their times are getting better, but I'm throwing them in some odd events here and there," Lounsberry said. "Since we have such a small group, I have to mix and match, juggle them around, fit someone where I can. I try to keep around two people in every event. It doesn't happen, but when I'm able to get them in the same events, in their normal events, they are improving."
Norwich (2-2) comes to Owego Tuesday.
——————
IN PHOTO 1: Owego's Gabe Snyder. ... PHOTOS BY TIM TAYLOR.