IAC WRESTLING: SVEC PICKS UP VALUABLE EXPERIENCE AT O-M DUALS
(2022-01-08)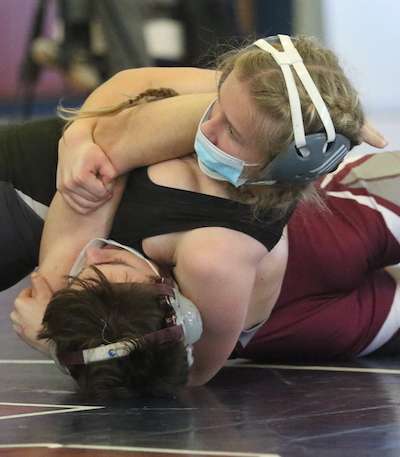 By TIM TAYLOR
Tioga County Sports Report
WATKINS GLEN — SVEC wasn't able to put its strongest wrestling team on the mat at the O-M Duals here Saturday, but the Eagles who stepped on the mat were able to pick up some valuable experience.
"Aside from missing five of our guys, including Devin Beach, John Hammond and Caleb Soto, everybody wrestled really well," SVEC coach Jesse Buck said. "We came here to get a lot of our guys experience. Like we've been saying it's a younger team and they all got some really good matches, and we saw them wrestle really, really tough and really well.
With a full line-up, SVEC could have had a legitimate shot at winning the tournament. The Eagles fell to South Seneca out of Section V, 39-12; Edison, 33-30; Odessa-Montour / Watkins Glen, 36-30; and Section V's Dundee, 42-33.
Both the Eagles' Devin Beach, ranked fifth in Division II at 189 pounds, and the Falcons' Dakota Stewart, ranked 12th at the same weight, missed the tourney.
Also missing were SVEC's John Hammond (285), ranked 10th, and South Seneca's Caleb Sweet, ranked fourth at 138, and Lucas Dendis, ranked 13th at 172.
The Eagles went 5-2 in contested bouts against Edison, OM/WG and Dundee. South Seneca took five of the seven contested bouts over SVEC.
The Falcons, OM/WG and Dundee tied for the team title with the host team winning on a tie-breaker and Dundee taking second.
With just seven wrestlers competing, the youthful SVEC team placed its focus on gaining experience.

"We weren't so much focused on the team score today, as far as getting a lot of these guys out there, getting some good competition, which I think we achieved," Buck said. "They all did really well, fought really hard. Some of them had the best matches we've ever seen them wrestle, so hopefully that got some confidence in them and that motivates them to keep going hard in practice."

Regardless of wins and losses, SVEC had several wrestlers impress their coach.

"The one kid I'll definitely mention is Jacob VanEtten," Buck said. "He didn't end up pulling off a win, but he's been coming leaps and bounds, and he brought some right down to the wire and even went to overtime, so I was really proud of him.

"John Johnston, he had a rough first match, but he came back and he showed up and pinned a couple of kids, and then won a tough match against the better kid in his very last match, so it was good to see him put all three periods together and get it done.

"Caden Ruben as well, did very well. He got caught in one today where I think he could have won. If he did that would have went 4-0, so also, he did very well."

Ruben, who won an exhibition bout that doesn't count on his record, Shane Neal (132), Tyler Knickerbocker (152), Johnston (160) and Keagan Dobell (285) all went 3-1. Tayah Beach posted a 2-2 record.

SVEC (0-7, 0-3 IAC Division I) returns to league action Wednesday at Whitney Point (0-5, 0-1 IAC Division I).

——————

IN PHOTO 1: SVEC's Tayah Beach. ... PHOTOS BY TIM TAYLOR.