STAC BOYS BASKETBALL: OWEGO FALLS TO UNBEATEN, STATE-RANKED SETON
(2022-01-07)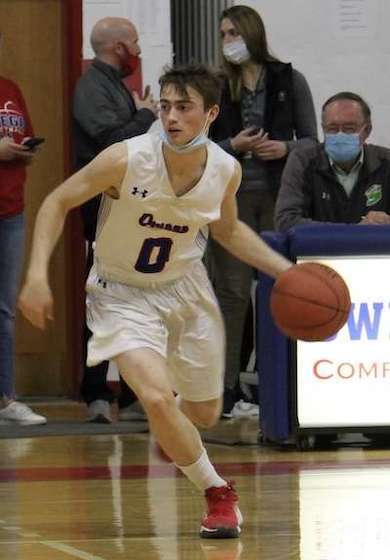 Tioga County Sports Report
OWEGO — Unbeaten Seton Catholic grabbed an early 13-4 advantage, but couldn't pull away from Owego until the fourth quarter in a 53-34 STAC boys basketball victory here Friday.
Michael Bucko scored 11 of his game-high 16 points in the final stanza as the Saints rode a 19-6 surge to the final buzzer.
Seton took the early lead with four points apiece from Andrew Erickson and Jaden Short, and a 3-pointer by Max Bergman.
Short tacked on another four points to set the pace as the state's second-ranked Class B team built a 24-14 halftime lead.
John Bangel collected all four of Owego's first-period points while Joe Bangel added six and John Larter four in the second stanza.
Erickson, Bucko and Michael Lee drained one trey apiece in the third quarter for the Saints. However, six points from Brad Palmer, four free throws by John Bangel and a trey by Drew Tavelli led the Indians to a 14-11 advantage, closing the gap to 35-28 heading into the fourth quarter.
"Played great defensively," Owego coach Chris Evans said. "We still are figuring out how to execute better on offense. We'll get there."
Short and Kaelin Thomas tacked on four points apiece in the fourth to help Bucko seal the deal.
Joe Bangel led the Indians with nine points and his twin added eight. Palmers scored six, Larter and Tavelli added four apiece, Ryan Pryor had two and Hunter Ellis added a free throw.
Short added 12 points to the Seton win and Erickson chipped in with 11 more.
Owego (4-6) hosts Corning (7-0) Monday.
——————
IN PHOTO 1: Owego's John Larter. ... PHOTOS COURTESY OF CHRISTINA BANGEL.