IAC BOWLING: SVEC TEAMS SWEEP GROTON
(2022-01-06)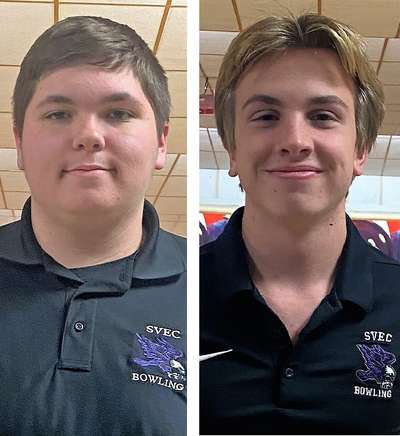 Tioga County Sports Report
GROTON — The Candor boys and girls bowling teams swept past Groton in IAC Division 2 bowling action here Thursday, winning by 4-0 verdicts.
BOYS
SVEC 4, Groton 0
The Eagles won, 902-710, 786-685 and 847-559, and took the total pinfall, 2535-1954.
Matt Fitch led the way with a 202-568 and Garrett Lindhorst added a 191-526.
Kody Floyd rolled a 197-498, Calvin Curkendall shot a 178-488, Tyler Dunham had a 170-455 and Aiden Jackson tacked on a 137-387.
SVEC improved to 32-8 with the win.
Jason Rabenstein scored a 170-453 for the Indians.
GIRLS
SVEC 4, Groton 0
Phebe and Kaydee Jackson rolled season highs for games and series for the Eagles. Phebe Jackson posted a 189-495 while Kaydee Jackson recorded a 158-447. 
Olivia Bennett led SVEC with a 192-510 and Kaitlyn Floyd contributed a 182-507.
Janelle Marsh shot a 172-485 and Calli Marsh had a 144-353.
SVEC boosted its record to 38-2. 
Lacie Hilker paced Groton with a 178-478.
——————
PHOTOS COURTESY OF MICHAEL SIEGEL.