STAC GIRLS BASKETBALL: CHENANGO FORKS RALLIES PAST OWEGO
(2022-01-06)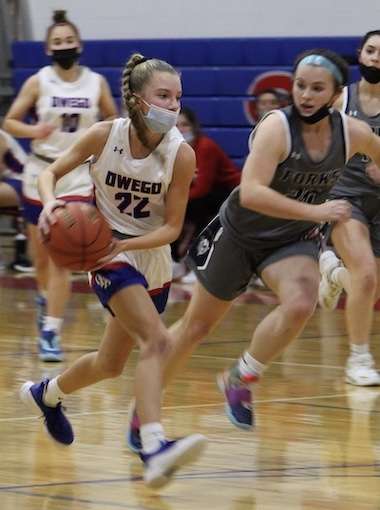 Tioga County Sports Report
OWEGO — Chenango Forks got hot in the second half while Owego struggled as the Blue Devils rallied for a 51-39 STAC girls basketball victory here Wednesday.
Forks outscored the Indians, 21-10, in the third quarter to trim the lead to 38-36 heading into the fourth period. Five of the Devils' baskets were 3-pointers, including two each by Trin Parks and Helena Willis.
Alyssa Specchio accounted for six of CF's 15 points in the fourth quarter while the Indians managed just one point over the final eight minutes.
Owego grabbed the game's early lead, 18-11, behind six points from Lauren Gilbert and a pair of 3-pointers by Madison McEvoy.
Taylor Dalton hit a trey and a basket in the second quarter, and Gilbert added four more points as the Indians made it a 28-15 game at halftime.
Gilbert led the Indians with 12 points and seven rebounds; Dalton had nine points and three steals; McEvoy added eight points and dished out four assists; Sarah Terry recorded six points and 12 boards; and Ava Brown tacked on four points and three rebounds.
Willis led all scorers with 15 points, Parks contributed 11 and Specchio added nine.
Owego visits Seton Catholic Friday.
——————
IN PHOTO 1: Owego's Madison McEvoy. … PHOTOS COURTESY OF CHRISTINA BANGEL.