IAC BOYS BASKETBALL: NEWARK VALLEY DROPS DIVISIONAL GAME WITH WAVERLY
(2022-01-05)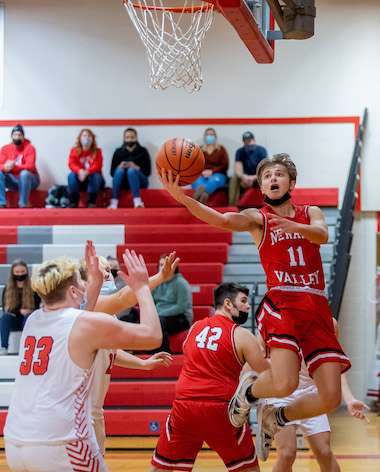 Tioga County Sports Report
WAVERLY — Waverly created a 15-point bulge after one quarter of play and rolled past Newark Valley, 79-32, in IAC South Large School boys basketball action here Wednesday.
Sparked by Joey Tomasso's eight points, the Wolverines ran out to a 24-9 advantage.
Brennan Traub added another eight in the second quarter as the home teams built a 40-21 halftime lead. Danny Pirger put up nine points for the Cardinals in the period.
The Wolverines held NV to six third-quarter points while scoring 27 to put the game out of reach.
Tomasso hit for a dozen points in the period, including a pair of 3-pointers.
Pirger led NV with nine points, Ryan Chandler contributed six points and Ethan Skeide added four. Landon Spoonhower, Jules Etienne and Noah Martin added three points apiece, and Gavin Mann and Troy Middendorf tacked on two points each.
Tomasso scored a game-high 22 points in three quarters. Traub finished with 16 and Davis Croft added another 11.
Waverly improved to 4-1 in the division and 6-3 overall. Newark Valley slipped to 1-5 and 2-6, respectively.
The Cardinals host Dryden (4-5) in an IAC crossover Friday.
——————
IN PHOTO 1: NV's Jules Etienne. … PHOTOS BY DAVID ALLIGER — TRAVELING PORTRAITS.