FROM THE PRESS BOX: A GLARING OMISSION IN OUR TOP COACHES LIST; 'LETTER TO SANTA' TOUCHES ON WRESTLING TOURNEY, SUPPORT FOR OFFICIALS ... AND MORE
(2021-12-25)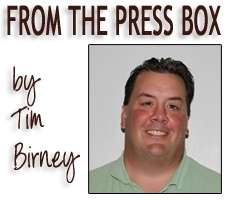 The Sports Report recently recognized our All-Region teams for the fall sports. The student-athletes on those teams were from our coverage areas — 24 school districts in five counties.
It was an exhaustive effort, and I think we did a pretty good job recognizing the top athletes in each sport, as well as the top athletes and top newcomers, regardless of sport.
However, we did drop the ball in one area — and it was a rather glaring omission.
In our 2021 All-Region "Baker's Dozen Coaches of the Fall," we honored Tioga football coach Nick Aiello, who won his second state title, as "Coach of the Year," and 12 of his contemporaries for their efforts this fall.
We did, however, omit the name of Spencer-VanEtten / Candor football coach Mike Chaffee, who directed the Eagles to an unbeaten season, and the No. 1 ranking in the final New York State Sportswriters Association 8-man football poll.
In a six-game regular season, SVEC outscored its opponents by an average of 57-5. Perhaps more impressively, when Covid cost the Eagles a pair of scheduled games against a Section IV opponent, Chaffee and the Eagles took on any opponent it could find.
In Week 5, SVEC made the trip to Wellsville in Section V to face the state-ranked Lions. The result was a 48-8 victory. The following week, the Eagles welcomed Section IX's Tri-Valley, and cruised to a 46-8 win.
The postseason was more of the same — with wins of 56-0 over Greene in the Section IV semifinals, and 50-12 over Groton the 8-man title game. Greene and Groton were both highly-tanked entering the games.
In the Regional championship game, SVEC thumped Section I's Spackenkill, 68-20.
As you can see, Chaffee was definitely deserving of recognition among the fall's top coaches. We apologize for the oversight.
——————
Dear Santa:
Congratulations on another successful trip around the Earth delivering gifts to all the good boys and girls. And, thank you for the wireless head phones.
I know you'll be taking some well-deserved time off. When you get back to work, I was thinking instead of delivering to the Birney household next Dec. 25, maybe you could spread my gifts out over the course of the year.
I've put together a brief wish list for you:
1. A regional wrestling tournament in The Sports Reports' coverage area:
I would love to see as many of the 19 wrestling teams in our coverage areas assemble for an annual wrestling tournament at The First Arena in Elmira.
Not only would we see wrestlers from Canton, Tioga, Athens, Horseheads, Newark Valley, Waverly, and Wyalusing, but we could invite other District 4 powers like Benton, Muncy, Southern Columbia, and Montoursville, as well as top teams from Section III, V, and VI in New York.
This area has been a hotbed of high school wrestling for years, and now boasts some young and ambitious coaches. There's no reason, we can't host a top-notch tournament.
2. Some much-needed support for local officials, regardless of sport:
I've always thought of myself as a pretty unselfish fella, so this gift is for all my friends wearing a striped shirt.
Can we please support our officials, because there are fewer and fewer in each sport every year. It's already causing scheduling problems, and it's likely to get worse.
As current officials are getting older and retiring, there are fewer younger ones to take their place.
Some are also walking away from the job because of verbal abuse from fans, and to a lesser extent coaches. And potential officials are staying away for the same reason.
How do we fix it? To start, administrators could crack down on unruly fans. If they don't settle down after a warning, escort them out of the building. One ejection brings a two-week suspension, and a second brings a ban for the remainder of the season.
Fans will tell you they have the constitutional right to "free speech." While that's true, I'll tell them the same thing I tell my kids, "you have the right to speak freely, but there may be consequences for what you say."
I'm not saying fans can't give officials grief, but there is a line. If we don't figure out how to keep fans on the right side of that line, there may be no officials left.

3. More kids, playing more sports:
Numbers have become an issue at nearly every school, regardless of size.
There are a number of reasons. One being the age-old battle for teens: job or sports? All I can say to a teen-age student-athlete is: "Play for as long as you can because you're going to work for the rest of your life."
Another big reason for the drop in numbers, especially for the better athletes, is specialization / travel sports. Too many kids are focusing one sport, whether it be baseball, lacrosse, wrestling, etc., and using travel sports as their main platform.
Don't get me wrong, travel sports has its place, especially in the Northeast, where high school baseball season is not likely to get you seen by professional scouts. But, I hate to see kids focus on travel sports at the expense of their high school experience.
And, too many times student-athletes will concentrate on one sport, despite the fact most top coaches will tell you they prefer a well-rounded athlete, who has played multiple sports.
4. Bring all the Section IV football championship games back to the same location:
And finally, can we please bring the Section IV football games back to one location?
I get why school's would vote for home-field advantage for the best team, but the high school football fans in Section IV are paying the price.
Gone are the days where a fan could set up shop at Binghamton's Alumni Stadium and watch three Section IV championship games, and I think that's a shame.