TAYLOR MADE: 5 GOLDEN RINGS
(2021-12-24)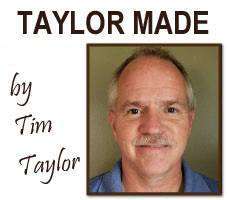 There's a tradition in my family where we would sing
The Twelve Days of Christmas
when we would get together for the holidays. My dad would chime in with his low, gruff voice, performing a slow-to-roll-off-the-tongue bass rendition whenever we reached the Five Golden Rings verse.
This will be the first Christmas without my dad here to perform his adaptation of that classic, so I've decided to give you my own version of Five Golden Rings. Since I can't sing worth a lick, I've written it out for you instead.
Here they are in ascending order.
Ring No. 5 — Around the Nets:
In soccer and volleyball, there is a net which plays a key role in the outcome of the event. This past fall, Tioga County produced several talented teams and players on the pitch and the court.
Two of the best soccer teams were the Owego boys and Owego girls.
The boys upset top-seeded Chenango Valley in the Section IV Class B championship game, then nearly knocked off 2019 state champ Skaneateles in the regional final, falling 2-1 in overtime.
The Lakers went on to repeat as champs, finishing the season 21-0. The Indians went 12-3-1.
The Owego girls would battled top-seeded Chenango Valley to a scoreless tie in the Section IV Class B title game to earn co-champion honors. CV would advance to the state tournament following a penalty kick shootout sudden victory.
Owego ended its season with a 9-3-2 record while the Warriors (15-2-1) fell to eventual state champion Bronxville in the regional final.
Erin McDonald and Carmen Jorgensen were named to all-state teams.
The Candor spikers had a great season as well, going 21-1 with a return trip to the NYSPHSAA Class D semifinals. The Indians also won their fourth consecutive IAC Small School championship and second straight Section IV title.
Likewise, Owego had a nice season, winning its 10th straight Class B sectional championship despite having several new players in its lineup.
Candor's Shelby Swartz and Addie Aman received all-state accolades, as did Owego's Sophia Palladino and Tioga's Reese Howey.
Ring No. 4 — Medal Run:
Newark Valley senior Jonny Sherwood and Owego 8th-grader Jaelyn Chrysler qualified for the NYSPHSAA Class C Cross Country Championships.
It was the third state meet for Sherwood, who placed 12th in a field of 132 runners to bring home a medal. He was also the IAC and Section IV Class C champion.
Chrysler, the highest-placing 8th-grader, garnered a 13th-place medal at states. There were 130 competitors in Class C. She was the runner-up at the sectional meet behind Chenango Forks standout Pipher Reid, who went on to place second at states.
Ring No. 3 — Above & Beyond:
Section IV had four football teams ranked No. 1 in the final New York State Sportswriters Association rankings, including two from Tioga County — SVEC and Tioga.
Chenango Forks and Maine-Endwell were also ranked No. 1 and joined the Tigers as state champions. This marks the first time three Section IV teams have won state titles in the same season. SVEC did not have an opportunity to play for a state championship as 8-man ends at the regional level.
Tioga County boasted the only unbeaten teams in the section. SVEC went 9-0 to run its 8-man winning streak to 14 games (15 overall). Tioga, which won its second state title, posted a 12-0 record. It's the second time the Tigers have had double-digit victories without suffering a loss (10-0 in 1980).
Forks and M-E both went 12-1 and now have seven and six state titles, respectively.
Ring No. 2 — The Tioga County Connection:
Not all athletes from this area "retire" from sports when they head off to college as this local quintet helped the SUNY Broome Community College volleyball team qualify for the 2021 NJCAA Division III National Volleyball Tournament.
Seeded fifth, the Hornets came home with fourth-place honors and received the Sportsmanship award. BCC went 18-2 overall and won 55 of 65.
That team consisted of five Tioga County athletes — Owego grads Macey Gibson (freshman outside hitter / defensive specialist), Maddy Powell (sophomore libero / defensive specialist), Mackenzie Struble (freshman setter) and Sara Zepkowski (sophomore middle blocker), and Tioga grad Bri Rossi (freshman libero / defensive specialist).
On a side note, I also found out that my stepfather's great nieces, Megan and Melissa Carden of Vestal, were members of the SUNY Broome team as well.
Ring No. 1 — Back in Action:
Section IV's ban on interscholastic athletics was lifted in early January. Although the situation wasn't ideal, we were able to enjoy (to some extent) the many sports offered to our youth.
In the current school year the athletes are experiencing a somewhat normal return to athletics. Let's keep our fingers crossed that the lingering effects of the COVID-19 variants will vanish so we may continue our return to normalcy.
And with that, I wish everyone a Merry Christmas.