TAYLOR MADE: MY FATHER, MY TEACHER, MY FRIEND
(2021-12-14)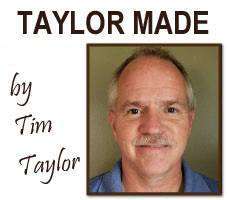 I was at the Tioga-Moriah football game at the Carrier Dome recently and as I watched the Tigers overcome some adversity on the field and start to dominate the game, my mind turned to how proud my father would be of the way these young men persevered to become state champions.
Like several of my friends' parents, James "Tonto" Taylor was a big supporter of Tioga sports, even after his children and several grandchildren either graduated or transferred to another school district. In fact, when I told him back in the fall that he could travel just a few minutes down the road to Owego, instead of the 15-20 minutes to Tioga Center, he said he still wanted to support the Tioga athletes as well.
He went to sit with the Lord a few weeks ago, so he didn't get to attend any sporting events or stream them on TV during the latter part of the fall season, although I'm pretty sure he was cheering from above.
My father was one of the most active men I've ever met. He toured part of Europe and Russia on a bicycle; sailed boats between New York and the Virgin Islands, and at Cayuga Lake and Dorchester Park; spent numerous hours on the ski slopes of Greek Peak, as well as at resorts in Vermont and Colorado; loved to hunt, especially in the Adirondacks and compete in black powder shoots in Minnesota and North Dakota; and raced motorcycles — to include numerous enduros (the Burro Enduro in the Valley being one of them) and motocross in Owego at what is now Champion Speedway.
He passed on his love of sports and the outdoors to me, as well as my siblings. He taught us how to ski, hunt, fish, ride motorcycles, play baseball — even coaching us in Nichols Ro-Ki youth baseball for a couple year. Dad taught me how to do a few other things as well — changing a tire, tuning up my old Volvo, how to mow the lawn or split wood — and other tasks that would help me down the path of life.
In recent years, he and I would get together occasionally to watch Penn State football, and the New York Giants and Yankees on TV. Sometimes, we would nap through parts of the games, but it didn't matter. We were spending time together. We used to bet a buck when the Yanks squared off with the Baltimore Orioles — needless to say I still owe him $28.
I was blessed that my father was around for 60 years of my life. So many of my friends lost a parent or parents when they were much younger. I was also lucky to have him teach me so much about life and I was blessed to have him as a friend.
After all this rambling, I guess the message I would like to share with you is make the most of the time you have with your children or with your parents — and it doesn't even have to involve sports. Just be a part of their lives.
——————
IN PHOTO 2: (L-R) Scot, Jim and Mike Taylor after Tioga won the 1980 Section IV Bowl III to complete a 10-0 season.